UBS Misses Bond Trading Rally as Trump Volatility Stings
by and
Swiss firm underperforms American rivals in bond trading

Equities revenue beat expectations on derivatives boost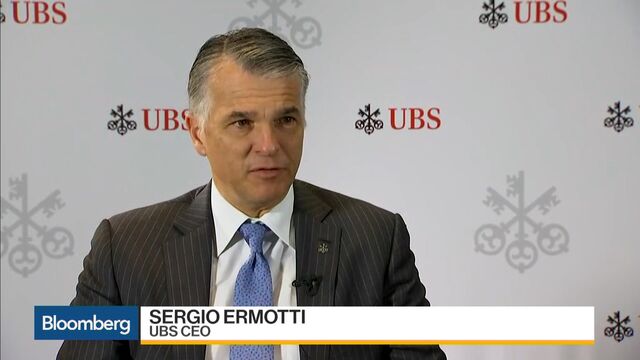 UBS Group AG missed out on a jump in fixed-income trading activity that boosted U.S. rivals as it faced tougher emerging markets and was caught wrong-footed in trading after Donald Trump's election victory.
Fourth-quarter revenue from foreign exchange, rates and credit trading dropped 12 percent to 341 million francs ($341 million), the bank said Friday. That missed the consensus estimate of 434 million francs, according to a note from JPMorgan Chase & Co.'s Kian Abouhossein. The drop was offset by a 22 percent surge in equities revenue to 891 million Swiss francs, which topped estimates on a boost from derivatives trading, Abouhossein said.
UBS suffered trading losses in its macro business in the volatility surrounding the U.S. election, according to a person with knowledge of the results, who asked not to be identified because the information wasn't public. That contrasts with the five biggest U.S. investment banks, who said they benefited from market swings -- which included a rally in the dollar and a rise in interest rates -- on their way to posting a 43 percent increase in total debt trading revenue.
"We weren't as well positioned as we obviously ideally would have liked to have been to benefit from the trends in volatility following the U.S. election," UBS Chief Financial Officer Kirt Gardner said on a call with analysts Friday. "We have very low inventory."
Ceding Share
The losses exacerbated UBS's headwinds from revenue declines in emerging market products and interest-rate options. The 12 percent drop excluded a one-time gain. The bank also said it had a less favorable business mix for activity in the quarter.
UBS has pulled back from many bond-trading businesses in recent years to focus on wealth management amid harsher capital rules. Other European banks such as Credit Suisse Group AG and Barclays Plc have also ceded share in trading businesses to the big Wall Street lenders, which were faster to take losses and restructure after the financial crisis.
"The steepening of curves and the narrowing of credit spreads benefited players that had strong presence in credit markets as well as rates, and in particular structured credit products," Gardner said. "That benefited two asset classes that we don't participate in in a very meaningful way. Our business is much more macro- and FX-focused."
To read more about trends in global securities trading, click here
UBS's jump in equities revenue outpaced all of the U.S. firms, which posted a collective 3 percent climb. The stock unit produced two-thirds of the bank's trading revenue for 2016, whereas the U.S. firms get about two-thirds of their revenue from the bond side.
While praising a "strong" equities result, Citigroup Inc. analyst Andrew Coombs highlighted fixed-income revenues were "far weaker than U.S. peers, which management attributed to a stronger fourth quarter 2015 comparison, and lower inventory levels." As a result Coombs, who has a buy rating on the stock, gave the investment bank a "mixed" grade.
Overall the securities unit, led by Andrea Orcel, reported pretax profit rose to 306 million francs from 80 million francs a year earlier, as it benefited from a one-time gain and lower restructuring costs. The unit's cost-income ratio dropped to 85 percent in the fourth quarter, down from 93 percent a year earlier.
For the full year, Orcel cut costs by 4 percent as headcount fell by more than 500 people to 4,734 at the end of December. UBS said Friday it's on track to reach its cost savings target at the end of this year.
Before it's here, it's on the Bloomberg Terminal.
LEARN MORE