PayPal Has Been Talking With Amazon on Payments, CEO Says
By
Payments business has European users Amazon may want to reach

Online retailer has its own ambitions for a payments business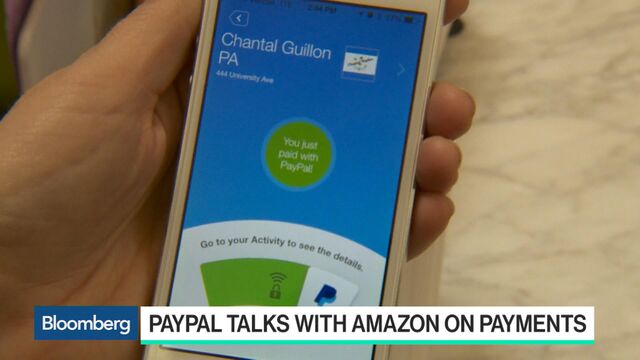 Amazon.com Inc. and PayPal Holdings Inc. have discussed letting shoppers pay for Amazon purchases using their PayPal accounts, highlighting how the digital payments company can attract new partners since its 2015 split from Amazon rival EBay Inc.
"We have been in conversations with Amazon," PayPal Chief Executive Officer Dan Schulman said Thursday in an interview with Bloomberg News. "We're closing in on 200 million users on our platform right now. At that scale, it's hard for any retailer to think about not accepting PayPal."
There are no details to announce, but Schulman said the conversations have focused on "how to use one another's assets to the mutual benefit of our customers."
A spokesman for Seattle-based Amazon declined to comment.
While Amazon's most loyal shoppers generally have their payment information saved as part of the Amazon Prime program, some shoppers might prefer the convenience of using PayPal as their primary digital wallet, said Paul Condra, analyst at Credit Suisse. That might produce more sales for Amazon, which may also benefit customers in Europe where credit cards are less prominent, he said.
"There are people who don't want to put their credit card information on Amazon and would like to use PayPal," he said.
PayPal separated from EBay -- Amazon's onetime arch rival -- to concentrate on expanding its electronic transactions business without being shackled to the slow-growing online marketplace. Schulman, who became CEO after the split, has been forging agreements to increase the number of people using PayPal and the frequency they use it.
Investors have been wondering if Amazon would let shoppers use PayPal since the payments company is no longer connected to EBay. Amazon, however, has its own payment service ambitions that may inhibit a deal. The e-commerce giant hired Patrick Gauthier from San Jose, California-based PayPal in 2015 to lead its initiative.
Amazon revived its own payments business in 2013 by letting shoppers use Amazon accounts to make purchases with other online merchants.
In considering a deal, Amazon is balancing its desire to control payments with its customer-centric philosophy, given PayPal's reach. PayPal on Thursday reported 197 million active customer accounts in the fourth quarter, with 31 transactions per account in the trailing 12 months.
PayPal's shares declined 3.3 percent to $40.12 at 1:25 p.m. Friday in New York. The company on Thursday also forecast revenue and profit that missed analysts' estimates.
Before it's here, it's on the Bloomberg Terminal.
LEARN MORE