Fashion
Can Lingerie Make Hollister Cool Again?
American Eagle is making a killing with its Aerie brand. A struggling rival seems to have noticed.
By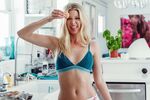 Hollister once ruled America, its seagull logo T-shirts and hoodies adorning tweens, teens, and college kids from coast to coast. Then, just as suddenly as the brand became cool, it wasn't.
The resulting, prolonged sales slump has executives scrambling for answers and firing employees. Taking a page from the playbook of more successful competitors, the company has now pinned its hopes on bras—comfy bralettes that lack padding and underwire, to be exact.
On Friday, Hollister parent Abercrombie & Fitch Co. announced the reintroduction of its Gilly Hicks label. The intimates line was once its own business, but A&F shuttered all its stores in 2013, leaving it to exist online. Two years later, the brand was folded into Hollister, becoming a neglected internet label with the occasional rack in a Hollister store.
No longer, it seems. Gilly Hicks lingerie will be fully available in all Hollister stores in the U.S. and sold online globally. Some stores will be outfitted with full Gilly Hicks-branded shops as well.
"Our Hollister customer will enjoy another destination for fun and cozy bras, undies and sleepwear," Kristin Scott, brand president of Hollister, said in a statement. "We've designed our Gilly product to be effortless and comfortable."
That means lots of bralettes, a style championed by Hollister's closest rival: American Eagle Outfitters Inc. Aerie, its lingerie label, is red-hot, with same-store sales clocking double-digit gains in each of the past eight quarters. Spurred by the popularity of its bralette specialty, Aerie is playing a key role in American Eagle's comeback—something Hollister would love to replicate.
"There's a whole runway here as far as the lightly lined categories and unlined categories that I think are going to be strong," Jennifer Foyle, president of Aerie, said in November.
Unsurprisingly, bralettes are plastered all over the Gilly Hicks section of Hollister's website. There are lace halter bralettes with removable pads, sleeve bralettes, high-neck bralettes, and bralettes with lots of straps. Only one style of push-up bra is available on the site, and it's not in stores.
Hollister must have seen Aerie's success and wanted to jump on the bralette bandwagon, said Simeon Siegel, an analyst at Nomura Securities's Instinet. Other retailers are seeing benefits from the trend, he said, so there's little reason for Hollister not to join in.
"They've already had a go at this," he said, making it easy to reboot the Gilly Hicks brand. Hollister, Siegel explained, is saying "'Let's reinvent something that we already put marketing dollars toward.'"
Before it's here, it's on the Bloomberg Terminal.
LEARN MORE