Angry French Workers Threaten Fillon's Election Hopes
By and
Former minister sees Fillon's campaign 'hitting the wall'

Populist Le Pen pitching herself as French workers' champion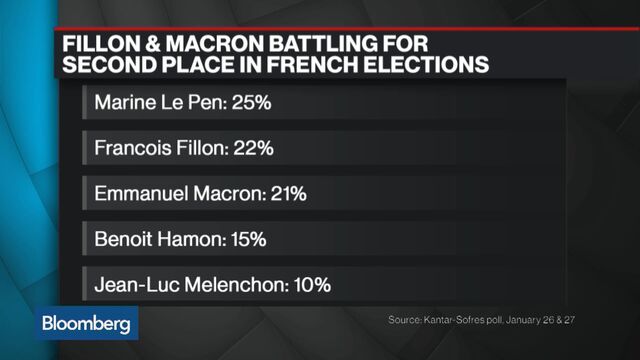 The working classes helped deliver Brexit in the U.K. and send Donald Trump to the White House. In France's presidential election, they may pose the biggest threat to embattled front-runner Francois Fillon.
The establishment candidate's economic plans are the sort of medicine that many top executives and international institutions have been demanding for years. But to many on lower incomes, already angered by reports about Fillon's lifestyle, that sounds like a threat to their standard of living.
With prosecutors opening a preliminary criminal probe into claims that Fillon's wife improperly earned about 500,000 euros ($530,000) while working as a parliamentary aide, concern is mounting among some of the candidate's allies that his perceived indifference to the day-to-day struggles of ordinary people is becoming an electoral risk.
Pollsters say the working class, the single biggest group of voters, is overwhelmingly opposed to the Republicans' candidate. That is a weakness the nationalist Marine Le Pen is seeking to exploit to boost her chances of a Trump-style shock.

"If we continue like this we are going to push the entire middle class into the arms of the National Front," Rachida Dati, a former Fillon minister with whom he has often tussled, said Jan. 20 in a radio interview. "If Marine Le Pen becomes the candidate of real wages, of jobs and workers and tax cuts, then watch out -- we're going to hit the wall."
14 Million Voters
Working people with annual incomes of less than 20,000 euros represent nearly a third of the France's 44.8 million registered voters, according to the national statistics office Insee. That group includes factory and construction workers, as well as people in low-skilled jobs such as retail clerks and waiters. Jerome Fourquet, head of pollster IFOP, estimates that Fillon has the support of just 11 percent of that group while Le Pen has more than 40 percent.
Fillon has repeatedly said he wants to remain faithful to his principles and has pledged to eliminate half a million public jobs, raise the retirement age and lengthen the work week just for a start. For him, the lack of mettle shown by previous presidents has impoverished the French and generated an unemployment rate of 10 percent, roughly double that of the U.K. and Germany. Voters need to realize they're being asked to make some sacrifices for a better future, he argues.
"Fillon's project is to first create wealth and then re-distribute it to the most fragile," Thierry Solere, a campaign spokesman, said. "One of the major objectives of Fillon is be to make people understand that he wants to create the conditions that will eventually help the least-favored citizens. This is the message."
Bookmakers' Favorite
Bookmakers still make the Republican the strong favorite to become France's next president because the two-round system makes it difficult for outsiders like Le Pen and Emmanuel Macron to amass a majority. Prices gathered by Oddschecker.com give Fillon a 55 percent chance of winning, with his main rivals on less than 30 percent.
All the same, a poll by Odoxa released Friday showed the Penelope affair was hurting Fillon. The survey, carried out the day after the probe was announced, saw the candidate's approval rating drop to 38 percent compared with the 54 percent when the question was last asked at the beginning of November. The poll of 1,012 people didn't break out results by social class or give a margin of error.

A preliminary criminal investigation into Fillon's employment of his Welsh wife going back almost two decades was announced Wednesday after satirical weekly Canard Enchaine reported that Penelope Fillon took a salary over multiple years for a largely fictitious job paid for with parliamentary funds.
The Republican nominee can ill afford the cost of such revelations as the presidential contest morphs into a three-way race. The post-primary bounce he enjoyed late last year has faded and he is now level-pegging with Le Pen for the first round, according to a major Ipsos Sopra Steria poll published Jan. 19.
"Having so little support among the working class is hurting Fillon," IFOP's Fourquet said in an interview. "Winning elections is about broadening your base."

Le Pen, who wants to take France out of the euro, has about 26 percent support compared with about 25 percent for Fillon, according to the Ipsos poll. Macron has moved within striking distance of the two favorites for the first round with about 21 percent. In mid-December, Fillon led by 3 percentage points.
'Gesture'
With the Socialist Party, the traditional choice for many workers, in disarray after Francois Hollande's disastrous presidency, the working class vote is the most obvious place for Fillon's rivals to pick up support.
Macron is spending much of his campaign rural France seeking their support while Le Pen accused the Republican of wanting to abolish social security and conduct a " purge" of public workers.
With criticism from top Republicans mounting, the candidate who proudly affirms his Catholic faith is considering making a gesture. That could come as soon as Jan. 29 when he holds his first major campaign meeting since the November nomination, according campaign officials.
Maurice Leroy, a lawmaker and former cabinet colleague of the Republican candidate, said Sunday he should act soon. "He needs to have the courage to tell the truth, yes, but he also has to give hope to the people of France."
— With assistance by Gregory Viscusi, and Zoe Schneeweiss
Before it's here, it's on the Bloomberg Terminal.
LEARN MORE