EU Lacks Leadership to Tackle Global Crises, Czech Minister Says
by and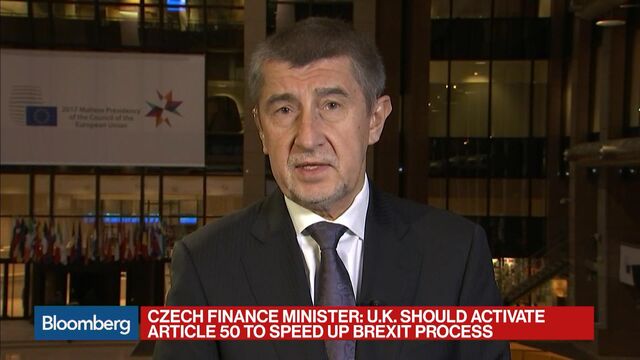 The European Union is unable to work with global superpowers in addressing conflicts and crises because it lacks leadership, Czech Finance Minister Andrej Babis said.
"Europe is very slow, very bureaucratic," Babis said in an interview on Bloomberg Television from Brussels. "The problem is who will sit together at the table" with leaders of the U.S., U.K., Russia "to solve the problem in the Middle East, North Africa, the migration. Europe is always waiting for elections" in countries including Germany and France, he said.
The Czech billionaire, whose party leads polls ahead of the fall general elections, has been critical of the bloc his country joined in 2004 and the way it tackled a series of issues, including the migration crisis. He rejected a call from his fellow Czech interior minister to lead separate talks with the U.K. on Brexit, saying the EU needs to stay united in the negotiations.
Babis said he was surprised by the announced "hard Brexit," and urged Britain to activate Article 50 of the EU's Lisbon Treaty quickly to speed up the negotiations.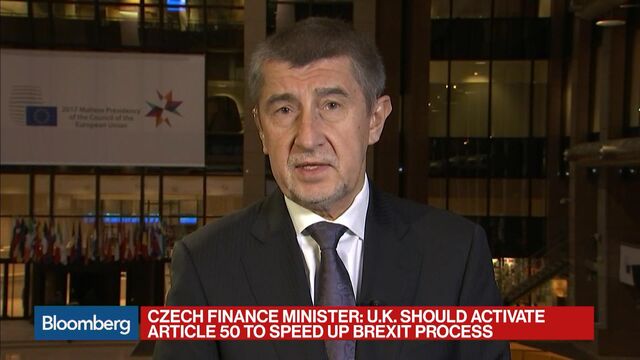 The EU is preparing its position for the formal talks on the U.K. departure as Prime Minister Theresa May has pledged to start the process by the end of March. May set out her government's strategy for exiting the EU in a Jan. 17 speech, signaling a "hard Brexit" that will take the U.K. out of the single market and give control of immigration priority over keeping existing relationships with the bloc. She also signaled she was prepared to turn the U.K. into a low-tax, light-regulation economy if the EU didn't meet her demands.
Before it's here, it's on the Bloomberg Terminal.
LEARN MORE