VW's Integrity Chief Leaving Over Disputes After One Year
By and
Hohmann-Dennhardt took new management board post last January

Successor Hiltrud Werner promoted from top auditing position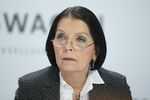 Volkswagen AG's integrity and legal affairs chief, brought on board as part of the German carmaker's response to its diesel-emissions cheating scandal, is departing after just one year on the job following clashes with other executives over her responsibilities.
Christine Hohmann-Dennhardt, hired from rival Daimler AG because of her reputation for toughness, is leaving Volkswagen due to differences in the "understanding of responsibilities and future operating structures within the function she leads," the manufacturer said in a statement on Thursday. Hiltrud Werner, head of Volkswagen group auditing, will succeed her.
Hohmann-Dennhardt took the newly created management board position in January 2016, a little more than three months after Volkswagen and U.S. regulators revealed that the carmaker had installed software on some diesel motors that was designed to cheat on emissions tests. In an unusual move, VW Chairman Hans Dieter Poetsch asked his counterpart at Daimler, Manfred Bischoff, to agree to the early termination of her contract.
Shortly after Hohmann-Dennhardt agreed to join VW in October 2015, the carmaker hired Manfred Doess as its chief counsel, also with responsibility for compliance and for cleaning up legal consequences of the diesel scandal. In addition, Doess is a member of the management board of Porsche Automobil Holding SE, VW's majority owner, further complicating the executives' ties in the corporate hierarchy.
Doess has steered Porsche through years of legal troubles caused by a failed attempt in 2008 to acquire Volkswagen, including gaining dismissal of U.S. actions, as well as the acquittal of the holding company and its former leaders in a related criminal trial.
In contrast to Hohmann-Dennhardt's failed effort to bring in former Federal Bureau of Investigation chief Louis Freeh to help Volkswagen in talks with U.S. authorities in the diesel case, Doess played a key role alongside Francisco Javier Garcia Sanz, the carmaker's top negotiator on the issue, in working out deals with the regulators.
Hohmann-Dennhard was a career judge and a state minister before being appointed to Federal Constitutional Court, Germany's highest tribunal. She served at the top court from 1999 until she joined Daimler in 2011, when the carmaker hired her after settling a corruption scandal in the U.S. Werner, her successor in the VW management board's integrity and legal-affairs post, is an economics graduate rather than a lawyer.
Before it's here, it's on the Bloomberg Terminal.
LEARN MORE