politics
Trump Names LaFleur Acting Head of Federal Energy Regulator
By
LaFleur listed grid security as one of her priorities

She replaces Norman Bay as chairman of energy commission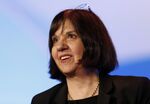 President Donald Trump picked Cheryl LaFleur to lead the Federal Energy Regulatory Commission, the agency responsible for deciding on multibillion-dollar natural gas pipelines and regulating the nation's power markets.
LaFleur, a Democrat and former utility executive who joined the commission in 2010, will serve as acting chairman, according to a statement on the agency's website on Thursday. LaFleur replaces Norman Bay, who had led the agency since April 2015.
Her appointment comes just as the agency is reviewing a set of controversial gas projects proposed by pipeline giants including Energy Transfer Partners LP and Williams Partners LP to carry the power-plant fuel out of shale formations. It may also signal the end of Bay's efforts to crack down on power and gas market manipulation. He was head of enforcement before joining the commission.
LaFleur is "good for business and good for the industry," said Ken Irvin, a Washington-based partner at Sidley Austin LLP who represents energy marketers and traders. "She has a very informed knowledge of the energy business and how to be an effective regulator. She's very in tune with our markets."
Under Bay's leadership, the commission had sought to impose tougher reporting rules to increase market transparency and prevent abuses. It went after energy giants including BP Plc and Total SA for alleged market manipulation, charges both denied.
"LaFleur's appointment signals that Trump is hearing congressional Republicans' complaints about FERC being too heavy handed to the markets," said Katie Bays, a Washington-based energy analyst for Height Securities. "He's interested in demonstrating his bonafides that he's going to be different than Obama."
LaFleur has served as both acting chairman and chairman in the past. Before joining the commission she was executive vice president and acting chief executive officer at National Grid USA. She listed grid security, regional transmission line planning and a "clean and diverse" power supply as her priorities on the agency's website.
(
Updates with analyst comment in sixth paragraph.
)
Before it's here, it's on the Bloomberg Terminal.
LEARN MORE