RBS Gains After $3.8 Billion Charge Tied to U.S. Mortgage Probe
By
Bank says timing of settlement with DOJ still uncertain

Fourth-quarter charge will reduce lender's key capital ratio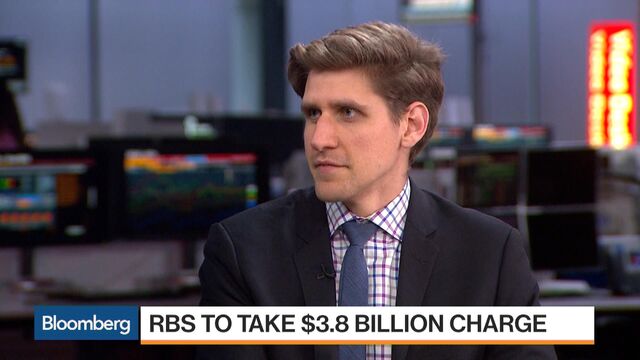 Royal Bank of Scotland Group Plc rose the most in two months in London trading after the bank took a 3.1 billion-pound ($3.8 billion) charge in a step toward resolving a U.S. probe into sales of mortgage securities.
The lender is continuing to cooperate with the U.S. Department of Justice on its investigation, though timing of a settlement remains uncertain, the Edinburgh-based bank said on Thursday. RBS has now taken 6.7 billion pounds of provisions related to as many as 15 mortgage investigations and lawsuits, and said it may face further charges.
RBS is one of the few global lenders that has yet to settle in a years-long probe that's garnered more than $50 billion in penalties for the DOJ since it began investigating the pre-crisis sale of mortgage bonds. Bloomberg reported last week that the U.K. taxpayer-owned lender was considering taking a provision based partly on Deutsche Bank AG's $7.2 billion settlement and Credit Suisse Group AG's $5.3 billion accord, both announced in December.
RBS investors, including the U.K. government, are paying a "heavy price for decisions made by RBS before the crisis. It's another painful example of that legacy," Chief Executive Officer Ross McEwan said on a call with reporters. The charge "reflects the legacy of time when RBS lost its way on its quest to build a global bank."
The shares rose as much as 6.7 percent, the most since Nov. 10 and were up 11.8 pence to 239.3 pence at 11:37 a.m. The stock declined 26 percent last year.
Read More: Deutsche Bank, Credit Suisse settle probes
Although the lender's board was able to make the fresh provision based on other European banks' settlements, Chief Financial Officer Ewen Stevenson said RBS isn't yet in any active negotiations with the Justice Department. McEwan said he wouldn't speculate on whether changes in the U.S. administration under President Donald Trump may change the tone of any talks or delay the process. 
"We're keen to resolve this as quick as we can," McEwan said on the call with reporters. "We'll work constructively with the appropriate authorities whoever they are."
RBS's fourth-quarter charge is larger than the 2.7 billion pounds that Citigroup Inc. analysts led by Andrew Coombs predicted in a note to clients last month. The provision would have reduced the bank's common equity Tier 1 capital ratio by 1.35 percentage points based on where it stood in September, RBS said.
"If the $3.8 billion provided for today ends up being the settlement amount with the DOJ on such matters, it would be well within market expectations for a $2 billion to $8 billion charge," Joseph Dickerson, a bank analyst at Jefferies International Ltd., said in a note to clients.
No Clawbacks
While the bank had about 9 billion pounds of provisions for regulatory and legal matters on its balance sheet in September, analysts had said it probably needed more to cover residential mortgage-backed securities settlements and associated legal costs. The company is scheduled to report full-year earnings on Feb. 24.
Drawing a line under the U.S. investigations would clear a significant barrier for McEwan in his task to return RBS to profit and restore dividends. While he must also divest its Williams & Glyn consumer division, settling the probes could make it easier for the government to sell its majority stake in the lender. 
RBS is the last of 18 banks yet to settle Federal Housing Finance Agency accusations it sold faulty mortgage bonds to Fannie Mae and Freddie Mac from 2005 to 2007. The amount of securities subject to the FHFA's complaints can serve as a guide as to how much the Justice Department will seek in penalties, according to Bloomberg Intelligence. RBS sold $32.1 billion, more than Deutsche Bank and Credit Suisse combined.
The bank closed its U.S. mortgage-backed securities trading and origination business in 2015 as part of McEwan's plan to cut investment banking operations around the world in order to focus on consumer and commercial lending in the U.K. and Ireland. Although RBS cannot claw back compensation from staff at the unit because pay decisions at the time didn't include such restrictions, the CEO said the value of the bank's bonus pool would fall in 2016 from a year ago.
RBS is now a "completely different business. Pay reflects the bank today and not 2007," McEwan said on the call with reporters. While "since 2010 bonuses have fallen over 90 percent in the investment bank, that downward trajectory will continue when we announce pay decisions later this year."
— With assistance by Sofia Horta E Costa
Before it's here, it's on the Bloomberg Terminal.
LEARN MORE