business
May Says 'Opposites Attract' as She Heads to Meet Trump
By and
U.K. leader seeks to lay the groundwork for a trade deal

Her approach mixes flattery with warnings about Russia's Putin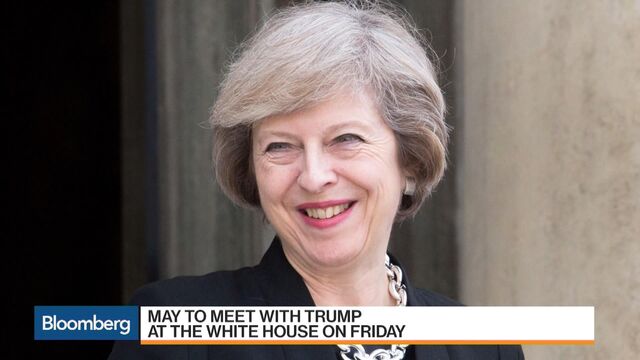 It's not what every woman would do as she prepares to meet Donald Trump, but on her flight to the U.S., Theresa May was sounding distinctly flirty.
Asked how a pastor's daughter with a reputation for caution would deal with a president regarded as brash and impulsive, May smiled. "Haven't you ever noticed?" she said. "Sometimes opposites attract?"
While some countries are treating the new president with caution, May is going all-out for the closest possible relationship, arguing this is how Britain's interests are best served. The prime minister said she believed she could work with the president, even as she signaled her willingness to confront him on issues where they disagree, including the use of torture.
"The U.K. and the U.S. have shared challenges, shared interests, that we can work together to deal with," May told reporters aboard her Royal Air Force plane. "We have a special relationship, it's long standing, it's existed through many different prime ministers and presidents. But I will also be very clear in the decisions I take and the conversations I have about U.K. interests."
On Friday, May will become the first foreign leader to meet Trump at the White House since he took office and ripped up the rule book, from trade policy to his use of Twitter. However, she flew into a diplomatic storm after Mexican President Enrique Pena Nieto canceled plans to see Trump because of a growing dispute over the wall he wants built along the border.
Reagan-Thatcher
May's own playful overture will be welcome in the White House -- where Trump has talked of recreating the close relationship between Ronald Reagan and Margaret Thatcher -- but they risk causing unease in Britain.
Before she visited Washington, May addressed the Congressional Republican retreat in Philadelphia. Her speech, two hours after Trump's, showed the difficult course she is trying to navigate, flattering the president while rejecting many of his stated positions.
May opened by praising Trump for delivering "a new era of American renewal." She was, she told her audience, "a fellow Conservative who believes in the same principles that underpin the agenda of your Party."
But where Trump had told his audience that "the world has taken advantage of us for many years" and assured them that this was "not going to happen any more," May told them that it was in the U.S.'s interests to continue to take a leadership role. 
Beware of Putin
After talking about the rise of China, she told them that "when others step up as we step back, it is bad for America, for Britain and the world."
She told them to "beware" Vladimir Putin's Russia. "We should not jeopardize the freedoms that President Reagan and Mrs Thatcher brought to Eastern Europe by accepting President Putin's claim that it is now in his sphere of influence," she said. She also referred to the wars in Iraq and Afghanistan and said the two countries shouldn't return to the "failed policies of the past."
"The days of Britain and America intervening in sovereign countries in an attempt to remake the world in our own image are over," May said. Even so, she added, "whether it is the security of Israel in the Middle East or the Baltic states in Eastern Europe, we must always stand up for our friends and allies in democratic countries that find themselves in tough neighborhoods too."
It remains to be seen whether Trump will be shifted by May's engagement strategy. In the meantime, it risks a political backlash for her at home. Tens of thousands of Britons joined the worldwide protests the day after Trump's inauguration, attacking his statements about women. May faces domestic calls to hold Trump to account over comments he's made on torture and over his climate policy.
No Indulgence
"Theresa May must stand up for our country's values when she meets Donald Trump and oppose his support for torture, which is inhumane, illegal and delivers false intelligence," opposition Labour Party leader Jeremy Corbyn said in a statement. "There can be no indulgence of the U.S. President's renewed threat to ban Muslims or build a wall on the Mexico border."
The premier is trying to portray Britain as open and ready to do business with the world, even as she prepares to officially trigger two years of Brexit talks. The relationship with the world's biggest economy is an important plank in Britain's post-Brexit future.
While May is seeking agreement from Trump to begin work on a trade deal, it can't be formalized until Britain has completed its withdrawal from the EU. She refused to discuss what areas that would cover, but insisted the deal wouldn't lead Britain's state-funded National Health Service to begin charging patients.
"There will be a limit to how far we can go in terms of a formal free trade agreement," May said. "I think there is much that we can do in the interim in terms of looking at how we can remove some of the barriers to trade in a number of areas."
If the prime minister caught any of Trump's speech, which he was giving as she arrived, it contained a warning for her about the kinds of trade agreements he wants.
"They'll be one-on-one deals," he said. "And if that particular country doesn't treat us fairly, we send them a 30 day termination -- notice of termination. And they'll come and say, 'please don't do that' and we'll negotiate a better deal during that 30-day period.'
(
Adds foreign interventions in 11th, 12th paragraphs.
)
Before it's here, it's on the Bloomberg Terminal.
LEARN MORE