Japan's Consumer Price Declines Ease as Oil Costs Take Hold
By
CPI is still a long way from the Bank of Japan's 2% target

Central bank will update its inflation forecast on Jan. 31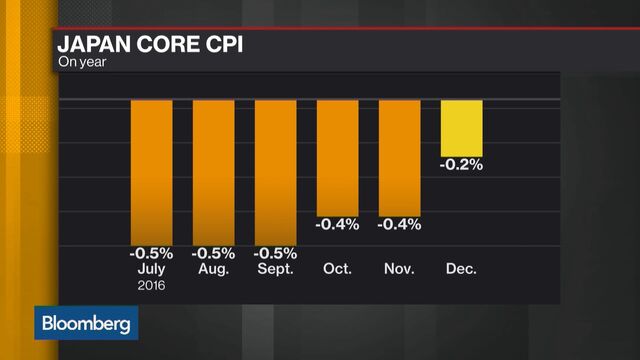 Consumer prices in Japan dropped for a 10th straight month, though the pace of decline eased as oil costs rose, supporting expectations for a return to inflation later this year.
Key Points
Consumer prices excluding fresh food, the Bank of Japan's core inflation gauge, fell 0.2 percent in December from a year earlier (forecast -0.3 percent).
Overall consumer prices rose 0.3 percent (forecast 0.2 percent).
Consumer prices excluding food and energy were unchanged (forecast -0.1 percent).

Big Picture
A weaker yen and pickup in oil prices are likely to spur inflation this year, though questions remain on whether the expected gains in CPI will be sustainable, given poor growth in wages and lackluster consumer spending.
The central bank isn't expected to change policy when board members meet Jan. 30-31, but there is some prospect it could upgrade its forecasts for economic growth, or even inflation.
Even if consumer prices reach 1 percent this year, BOJ, officials would rather be late than early when it comes to raising their 10-year bond yield target from zero percent, according to people familiar with the central bank's discussions.
Economist Views
"Core CPI will likely return to gains as early as February, and may reach 1 percent around October," said Hiroaki Muto, chief economist at Tokai Tokyo Research Center. "It's all about energy prices this year," said Muto, adding that private consumption remains poor and the 2 percent inflation target won't be met.
"In terms of this slight improvement in inflation, it has nothing to do with monetary policy in Japan. It has more to do with the oil price going up," Takuji Okubo, chief economist at Japan Macro Advisors, said on Bloomberg TV. Okubo likened the BOJ's pursuit of 2 percent inflation as "a shaman praying for rain."
"CPI is at the turning point. It's gradually gaining momentum," said Nobuyasu Atago, chief economist at Okasan Securities Co. and a former head of the price data division at the BOJ. "We are still missing improvement in the underlying price trend because of a lack of wage growth and better consumer spending," said Atago, who cautioned that the gains he sees on the horizon will be under 1 percent.
Details
Consumer prices excluding fresh food in Tokyo, a leading indicator for national figures, fell 0.3 percent in January (forecast -0.4%).
Consumer prices excluding food and energy in the capital were unchanged in January (forecast -0.1%)
Japan's core consumer prices dropped 0.3 percent in 2016, the first annual decline under Haruhiko Kuroda's governorship of the central bank.
— With assistance by Keiko Ujikane, and Yoshiaki Nohara
Before it's here, it's on the Bloomberg Terminal.
LEARN MORE