Ford Plunks Down $200 Million Bet on Trump and Awaits Reward
By
Carmaker books charge after canceling Mexico small-car plant

CEO says there are no plans to build new factories in U.S.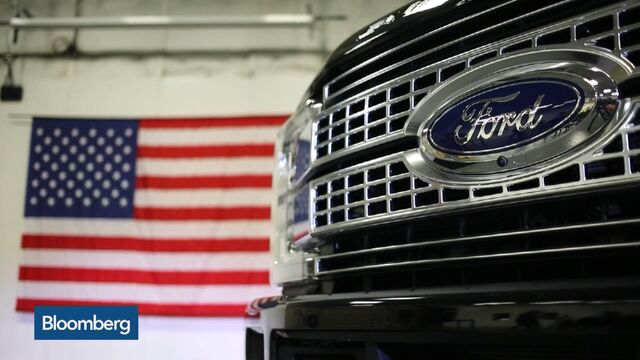 Ford Motor Co. revealed Thursday the price paid for its aggressive push to curry favor with President Donald Trump: $200 million.
Within fourth-quarter results that met analyst expectations, Ford took a $200 million charge to cover the cost of abandoning a small-car factory in Mexico that would have built the Focus compact. The automaker announced the turnabout earlier this month after Trump, as candidate and president-elect, sharply criticized the plant.
The move may pay off in the long run and is peanuts for a $49 billion company. Ford said it'll actually end up saving $500 million by not completing construction of the Mexico factory. Since that decision, the automaker has worked its way into Trump's good graces and is now looking to parlay the relationship into more lenient regulations and tax breaks that could boost profits. Chief Executive Officer Mark Fields met twice this week with the president, who also speaks regularly with Executive Chairman Bill Ford.
The jockeying underscores how Ford's financial well-being will be linked the next four years to the whims of a White House taking special interest in where cars are built and how fuel efficient they'll have to be.
"The president is going to be very good for business and the economy," Fields said in an interview with Bloomberg Television on Thursday. Still, the U.S. market has "plateaued," he said. "We don't have any plans to build any new plants, but clearly we want to continue to grow our business."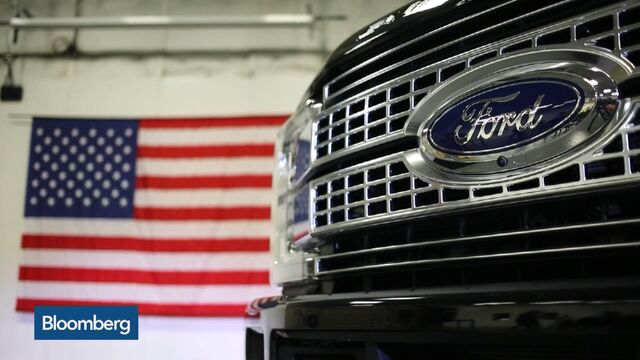 Abandoning the $1.6 billion Mexico plant contributed to a quarterly net loss for the company, its first since 2009. Excluding charges related to the factory cancellation and a pension plan loss, Ford reported profit of 30 cents a share, matching analysts' estimates.
CFO's Caution
Ford reiterated earnings will drop this year as it begins to invest about $4.5 billion toward electrification and spends on self-driving vehicles. The shares fell as much as 3.4 percent as Chief Financial Officer Bob Shanks said on a conference call there may be puts and takes to a Trump presidency. The stock declined 3.1 percent to $12.39 as of 3:24 p.m. in New York.
U.S. stocks stalled Thursday after Mexico's President Enrique Pena Nieto canceled a meeting with Trump amid the border-wall dispute threatening one of the world's biggest bilateral trading relationships. General Motors Co. fell 2 percent to $37.52 in New York trading.
"We're both suffering from this Mexico conversation that's going on with the administration," Shanks said in an interview, referring to both Ford and GM. "It's just unfortunate. Maybe this is just part of the process as we start going through this NAFTA renegotiation."
Ford reported a net loss of about $800 million last quarter, compared with income of $1.9 billion a year earlier. Excluding the pension-related charge, profit fell 18 percent to $2.13 billion.
Mexico Plant
Ford will still move production of Focus compacts to an existing Mexico factory, though it's also plowing $700 million into a plant south of its headquarters in Dearborn, Michigan.
The investment Ford announced in Flat Rock, near Detroit, will prime the plant to build an all-electric sport utility vehicle and hybrid Mustang pony car by 2020, plus an autonomous vehicle for ride sharing or hailing services the following year.
Ford has said outlays on electrification and self-driving cars will lead to a one-year blip that should give way to higher net income in 2018. It's starting this year with plans to dial back production in North America by about 39,000 vehicles compared with a year earlier, to 815,000 cars and trucks.



Trump's Promises
Fields has expressed confidence Trump follows through on promises to cut corporate taxes and create a more favorable business environment, which could mean easing environmental regulations the president referred to this week as "out of control."
Strong sales of sport utility vehicles and trucks last year propelled Ford to a $10.4 billion annual pretax profit, down from $10.8 billion in 2015 but still its second-best annual total.
Automotive sales in the fourth quarter declined to $36 billion, topping analysts' average estimate for $35.1 billion.
North American pretax profit in the fourth quarter dropped $73 million to $1.96 billion
In Europe, Ford earned $166 million before tax, about $35 million better than the year-earlier quarter
Asia-Pacific quarterly pretax profit decreased to $284 million, down $160 million
Ford said it will pay out average profit-sharing checks of $9,000 to each of its 56,000 United Auto Workers-represented employees in the U.S.
After major introductions over the past two years of its F-150 and Super Duty trucks, Ford's most significant new products coming this year are aluminum-bodied versions of its big SUVs, the Expedition and Lincoln Navigator.
Rather than what's headed for showrooms, the biggest influence looming over Ford's future could be the man in the oval office.
"For now, the market is not worried," said David Whiston, a Chicago-based auto analyst with Morningstar Inc. "But the market will get very worried about auto stocks if Trump ends up doing a 35 percent tariff on Mexican imports."
— With assistance by David Westin
(
Updates with CFO comment in 10th paragraph. An earlier version of this story corrected the description of $2.13 billion figure in second paragraph.
)
Before it's here, it's on the Bloomberg Terminal.
LEARN MORE