Ericsson Sales Exceed Estimates in Relief for New CEO Ekholm
By
Ekholm asks for patience as Ericsson outlines new strategy

Revenue drops 11%; dividend cut for first time in 8 years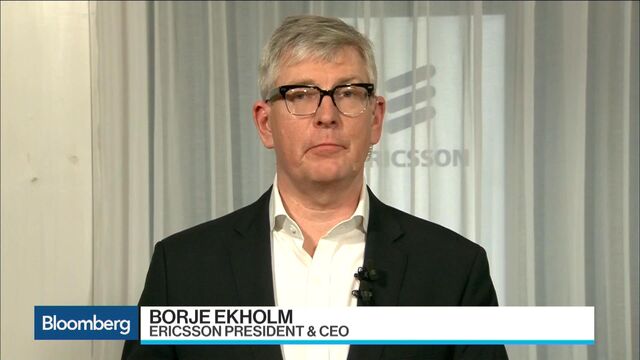 Ericsson AB reported higher fourth-quarter revenue than analysts predicted, offering some relief to new Chief Executive Officer Borje Ekholm as he tries to stabilize the Swedish wireless network maker.
The stock jumped as much as 7 percent after Ericsson said revenue fell 11 percent to 65.2 billion kronor ($7.4 billion). Analysts predicted sales of 59.2 billion kronor on average. Adjusted operating profit of 4.4 billion kronor topped the average estimate of 3.35 billion kronor.

"The negative industry trends remained in the fourth quarter," Ekholm said in a statement. "However, sales were positively impacted by favorable currency exchange rates combined with hardware deliveries."
In his first major decision, Ekholm slashed the dividend for the first time in eight years. That will give the new CEO a cash cushion as he tries to reverse a sales plunge caused by fierce competition amid a slowdown in spending by wireless carriers. Huawei Technologies Co. dethroned Ericsson to become the world's biggest supplier of mobile infrastructure in the third quarter, according to IHS Markit.
Tough decisions remain on staffing, competition and product priorities for Ekholm, who asked investors for patience, saying his strategic review will take some time.
"It may be disappointing that we don't stand here pointing out exactly what we're going to do, but I think it's more important to execute on what we do and that requires alignment internally," the new CEO said. "Bear with us, we will get there."
In an interview with Bloomberg TV, Ekholm said his priority is profitability, and to have enough financial strength to invest in technology areas where the company can have a leading position, including the fifth generation of mobile-network technology that will be tested in field trials starting this year.
"When you are a market leader you tend to have better profitability," Ekholm said. "They go hand in hand: market leadership and profitability."
Shares of Ericsson rose as high as 55.60 kronor for their biggest intraday gain since June, and added 2.1 percent to 53.05 kronor at 1:09 p.m. in Stockholm. The stock lost 35 percent last year, the second consecutive annual drop.
For Gadfly columnist Leila Abboud's take on the new CEO's plans, click here.
Ericsson's closely watched gross margin, the share of sales left after subtracting production costs, fell to 29.4 percent on adjusted basis. That matched the average prediction by analysts, who expect the margin to pick up this year as cost cuts implemented by Ekholm's predecessors bite.
The company is slashing its annual dividend to 1 krona a share from 3.70 kronor previously. Analysts had predicted a reduction to 2.54 kronor on average. The cut is an attempt to preserve cash and avoid further credit-rating downgrades.
Ericsson's rating has been cut twice by Moody's since its profit warning in October, and is now only one notch above non-investment grade. The company's ambition is to have a solid investment grade rating, Chief Financial Officer Carl Mellander said.
"That's important for us, and the dividend decision should be seen in that light," Mellander said in a phone interview. "To be comfortable with being solid investment grade we should go one notch higher."
Ericsson is also trying to curb costs as it waits for operators to invest in the next generation of mobile networks, aiming to reduce operating expenses by 10 billion kronor by the second half of 2017.
Before it's here, it's on the Bloomberg Terminal.
LEARN MORE