Dollar's January Blues May Spell Trouble for 2017 Performance
by
First month of the year has set tone for dollar since 2012

Bloomberg's dollar index has dropped over 1.5% since Dec. 31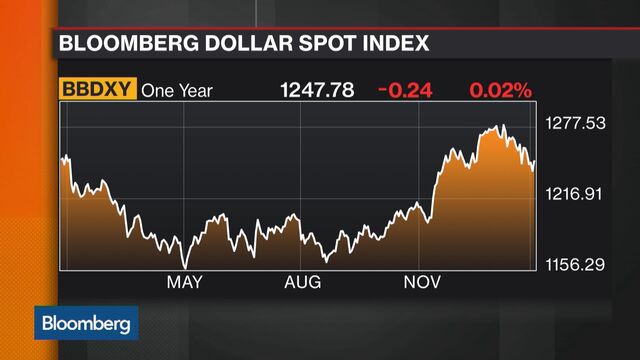 For the dollar, as goes January, so goes the rest of the year.
At least that mantra has held true since 2012 and it's an ominous signal for bulls betting U.S. president Donald Trump's policies will boost the greenback.
A heat map of monthly changes in the Bloomberg Dollar Spot Index, which tracks the greenback versus 10 peers, shows the direction of moves in the first month of the year have matched its annual course in each of the past five years. While the index gained 0.5 percent on Thursday as of 3:17 p.m. London time, it's still down 1.7 percent so far this month.

Bets on a stronger dollar have been a dominant force in markets since Trump's victory as speculation on infrastructure spending, faster growth and inflation sent stocks and bond yields higher. That momentum has faded this year, leaving the greenback on course for its biggest monthly loss since April.
Click here to view the Markets Live blog where this post first appeared.
"Markets were very long dollars heading into year-end and the prevailing assumption was that it was clearly going to the moon," said Ned Rumpeltin, the European head of foreign-exchange strategy at Toronto Dominion Bank. "It was inevitable for the pendulum to swing back. What is interesting is that the dollar has been still on a weak footing while real rates appear to have bottomed. That suggests that positioning remains a key element near term."
Before it's here, it's on the Bloomberg Terminal.
LEARN MORE