Bonds and Stocks Might Not Be Singing to the Same Trump Tune
By
Divergence between bond and equity implied volatility swells

Real yields have fueled 10-year selloff post-election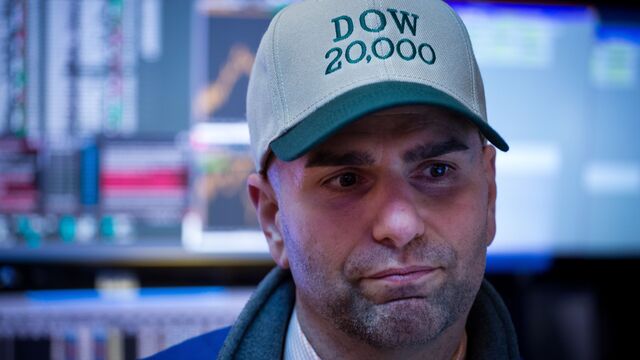 MOVE, VIX. Get out the way.
The CBOE Volatility Index, a measure of the implied volatility of the S&P 500 Index commonly known as the VIX, closed below 11 for the first time since July 2014 on Wednesday. Meanwhile, Merrill Lynch's Option Volatility Estimate Index (MOVE) -- a yield curve weighted measure of implied volatility in U.S. Treasuries -- jumped to 77, sending the ratio between these two measures to levels consistent with the 2013 taper tantrum.

Conventional wisdom holds that these two outcomes -- rising bond yields and equities at all-time highs -- are part of one, harmonious story: a widespread reflation trade fueled by the anticipated fiscal policies of the new Trump administration. But there's a problem with this narrative, according to Christopher Scott Mose, managing director at BNY Mellon Capital Markets LLC: It's not abundantly clear that 'Trumpflation' is a coherent explanation for buoyant equities and the rising 10-year Treasury yields.
"While inflation premiums rose through the summer, driving most of the higher yields from the July through October period, they have not been the primary catalyst pushing the 10-year 65 basis points higher since the elections," he writes. "Instead, a likely combination of concerns over increasing supply from fiscal spending and possible waning demand from foreign buyers driven by a trade war could be the cause of rising real yields."
As such, Mose deems the reaction in bond versus equity markets to be distinctly different, rather than two sides of the same coin.
"Most important for investors is whether these asset classes begin to converge and which one will drive the move," he said.
No Sure Thing
Since the U.S. election, the VIX has closed below 15 for 52 consecutive trading days, according to analysts at Bespoke Investment Group -- but it's no sure bet that there's pent-up equity volatility just waiting to be unleashed. During the previous 10 instances in which the VIX closed below 15 for 50 straight sessions, Bespoke found that the S&P 500 has tended to rise more often than fall over one, three, six and 12-month time horizons.
But this time might be different, Mose said, as equity volatility has been falling faster than stocks have been rising.
"Given that the VIX is already near multi-year and all-time lows, it's safe to be more concerned with equity volatility, which in a typical risk-off scenario would drive yields and the MOVE index lower," he wrote, discussing what could drive a convergence between the two indexes. "Politics and tweeting have been and will likely remain the main catalyst for market moves in the foreseeable future."
Or as Ludacris rapped in his 2002 hit about getting out of the way, "there's somethin' wrong, we can't stay still."
Before it's here, it's on the Bloomberg Terminal.
LEARN MORE