This Chinese Soccer Team Is Worth More Than AC Milan
Bloomberg News
Chinese real estate company Sinobo Land bought 64% stake

Club has devoted fans but hasn't won a title since 2009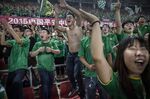 A recent investment in Chinese soccer team Beijing Guoan pegs the value of the club at more than $800 million, putting it on par with some of the best teams in the West, including seven-time European champion AC Milan.
Beijing-based property developer Sinobo Land Co. agreed to buy a 64 percent stake in the club at such valuations, taking over from previous owner Chinese conglomerate Citic Ltd., according to a statement yesterday.
The valuation is higher than the 740 million-euro ($795 million) fetched by AC Milan after a separate group of Chinese investors bid for the team last year. It also gives Beijing Guoan a higher valuation than last season's European Champions League runner-up Atletico Madrid, whose enterprise value was estimated at 565 million to 618 million euros by KPMG.
The deal for Beijing Guoan, which has one of the biggest fan bases in the China Super League, illustrates how valuations for soccer teams in the country are soaring. Beijing Guoan isn't even the most expensive club there as Evergrande Taobao, the league champion for six years in a row, is valued at $2.9 billion, based on the stock's last trading price on the country's over-the-counter market.
"It's an inflated price," said Simon Chadwick, a sports business professor and consultant to Chinese soccer. "It's clearly based on the interest of the state to have highly valuable football clubs that can be compared to the biggest in the world and get people talking."
The Guoan deal came shortly after the Chinese government criticized the recent spate of excessive spending on soccer. Ever since President Xi Jinping announced his plan to make China a soccer powerhouse, the country's richest have been pouring money into the sport, importing expensive foreign talent to domestic teams, buying stakes in European professional clubs, and seeking to commercialize the Super League by making expensive bids in sponsorships and broadcasting rights.
The Chinese league has trumped Italy in popularity, averaging 24,200 spectators per match, according to a white paper jointly published by the league and Deloitte LLP earlier this week. Broadcasting revenue surged more than 11-fold to 1 billion yuan last year, according to the report.
Guoan, which is changing its name to Beijing Sinobo Guoan after the transaction, hasn't won a league championship since 2009 and the club has a modest international profile but it is among the best-supported teams in the Super League. Last season it averaged close to 40,000 spectators at Beijing Workers' Stadium, its home field.