U.K.'s May to Publish Bill to Trigger Brexit on Thursday
By and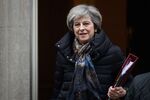 U.K. Prime Minister Theresa May's government will publish the bill to trigger Brexit on Thursday, according to a person familiar with the situation.
The bill will simply be published in a first reading -- the first stage of it going through Parliament -- and will be debated at a later date, the person said, declining to be identified because the plans are private. Some details of the proposed legislation are expected to be set out when Brexit Secretary David Davis answers questions from lawmakers in Parliament at 9:30 a.m.
May has failed in her attempts to bypass Parliament in invoking Article 50 of the Lisbon Treaty, the formal mechanism for Britain's exit from the European Union. The government decided to publish a bill after losing its appeal against a High Court ruling that required May to seek a vote among lawmakers before triggering Brexit. She also promised on Wednesday to publish a White Paper setting out her plan for the process.
Davis said on Tuesday the bill will be "straightforward." A short tightly worded bill would help the government rush the legislation through Parliament before its self-imposed deadline to begin exit talks by the end of March, giving lawmakers as little opportunity as possible to table amendments.