The Hot New Thing in Saunas: Infrared
Proponents say you can get a better sweat at a lower temperature.
By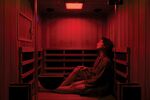 How are they different from a traditional sauna?
Proponents say the lower temperatures of infrared saunas let you stay in them longer to reap greater benefits—from weight loss to increased circulation to "cellular detox." "There are two components to detoxing: One is supporting your detox pathways, so that your body is able to flush out the toxins"—everything from environmental pollutants such as cadmium and arsenic to alcohol and sugar—"and the other is repairing the damage done by the toxins," says Dr. Amy Myers, author of the New York Times best-seller The Autoimmune Solution. "Traditional saunas cause your body to sweat out toxins. Infrared saunas not only flush out toxins more effectively, they also help your cells and tissues regenerate and support your immune system, which is why I recommend them to my patients." 
 
Why are these a thing now?
The technology behind infrared saunas isn't new, but the buzz around them has been growing since 2009, when Dr. Mehmet Oz went on The Oprah Winfrey Show and extolled their benefits. (No, audience members didn't receive free infrared saunas.) Since then, gyms, spas, and wellness centers across the country have been installing the rooms. Gwyneth Paltrow endorsed them in her lifestyle publication, Goop, and power couple Jennifer Aniston and Justin Theroux installed one in their home gym.
 
Does this really work?
A 2012 study in the Journal of Environmental and Public Health found traces of lead, arsenic, cadmium, and mercury in participants' sweat and concluded that "sweating deserves consideration for toxic element detoxification." As far as infrared's particular effectiveness, there's no scientific evidence. But many people find heat treatments of all types relaxing, and destressing has its own health benefits.
 
Where can I try one of these? 
 
New York
Higher Dose
$65 for 60 minutes
Booths are equipped with medical-grade chromotherapy lighting in several color options. Red is said to be good for energy, blue for relaxation, and yellow for stimulating creativity.

Floating Lotus
$65 for 30 minutes
In addition to its infrared sauna, this airy Midtown Manhattan space also has a Himalayan salt cave—a room made of pink sea salt, which is said to treat inflammation.
 
Los Angeles
Sweatheory
$35 for 60 minutes
This Hollywood-based sweat studio offers lavender- or eucalyptus-scented towels for your post-session rinse. If you've got time, or just happen to be a Bowie fan, add on a Ziggy Stardust—a crystal healing treatment said to refocus and realign your energy—for an extra $150.

Saunabar
$70 for 40 minutes
Saunabar's giant clamshell-style, single-occupancy SaunaPods are lined with more than 400 jade stones—nonporous, naturally antibacterial rocks—to conduct infrared heat, while the air around you stays cool.
 
Chicago
Cleanse Chicago
$30 for 30 minutes
This holistic health center uses hypoallergenic basswood in its infrared sauna rather than the more typical Nordic spruce or cedar, making it a good choice for even the most sensitive sweaters.
 
What if I want to be like Jen and Justin and not leave the house?
Clearlight Saunas (starting at $2,295) has been selling infrared booths to consumers for more than 30 years, complete with accessories such as stereo systems. SaunaRay booths boast pure ceramic heaters, which are thought to generate purer infrared radiation, and basswood grown near its headquarters in rural Ontario.
Before it's here, it's on the Bloomberg Terminal.
LEARN MORE