On Eve of Lunar New Year, China's Bond Investors Are Hurting
Bloomberg News
Few reasons to cheer as bonds set for biggest drop since 2010

PBOC's deleveraging efforts, rising inflation add to concerns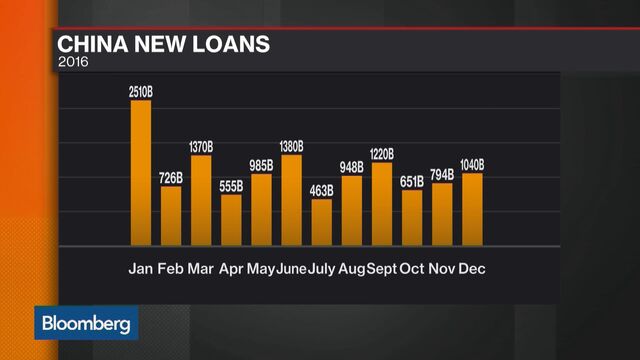 China's embattled bond investors should expect little respite in the Lunar New Year.
Since an 11-quarter debt rally came to an abrupt end last month, losses have deepened and analysts are turning more bearish. The benchmark 10-year sovereign yield is heading for its biggest monthly increase since October 2010, rising to levels last seen during the height of the turmoil in December. And there is no sign of a let-up in policy makers' efforts to weed out excessive leverage in the financial system.
The following charts show why Chinese bonds are facing more downward pressure as the Year of the Rooster begins:
Chart 1: December's market slump drove the benchmark 10-year government bond yield beyond its long-term moving average. This is a bearish sign and suggests the debt downturn will last for more than a couple of months, according to Hao Hong, head of research at Bocom International Holdings Co. The yield declined for almost three years through the third quarter of 2016, the longest stretch on record. It is up 33 basis points this month at 3.35 percent. That's the highest since Dec. 20.

Chart 2: China's long-term government bond yields tend to follow growth in the producer-price index, which has accelerated to the fastest pace in five years. Consumer and factory gate prices will probably extend their advance in January, Haitong Securities Co. predicted in a note this week. It revised its 10-year bond yield forecast to 3-3.4 percent from the previous 2.9-3.3 percent, without giving a timeframe.

Chart 3: While the People's Bank of China offered temporary liquidity to ease a cash squeeze before the Jan. 27-Feb. 2 Lunar New Year holidays, it followed that up with a surprise tightening signal. The monetary authority raised the cost of medium-term loans on Tuesday, spurring Goldman Sachs Group Inc. to comment that China was stepping up tightening. "The market understands that the central bank is very committed to controlling the pace of financial leverage, which means the risk of short-term interest rates is biased toward the upside," said Liu Linan, a Hong Kong-based strategist at Deutsche Bank AG.

Chart 4: With indicators including manufacturing and gross domestic product signaling a stabilization of growth, policy makers now have room to raise borrowing costs to widen China's yield advantage. This would support the yuan and ease capital outflow pressures. The difference between one-month funding costs for the yuan and the dollar has narrowed to around 308 basis points from close to 500 two years ago. If the gap continues to shrink, it would result in more pressure for the yuan to depreciate, according to Deutsche Bank's Liu.

Chart 5: The difference between China's one- and five-year interest-rate swaps has widened to the most in two and a half years. This is a reflection of rising inflation expectations, and there is room for further steepening over the next few months, according to Frances Cheung, head of rates strategy for Asia ex-Japan at Societe Generale SA.