Novartis Mulls Options Including Spinoff, IPO for Alcon Unit
By
Drugmaker projects 2017 sales will be largely same as 2016

Company plans to repurchase $5 billion of shares this year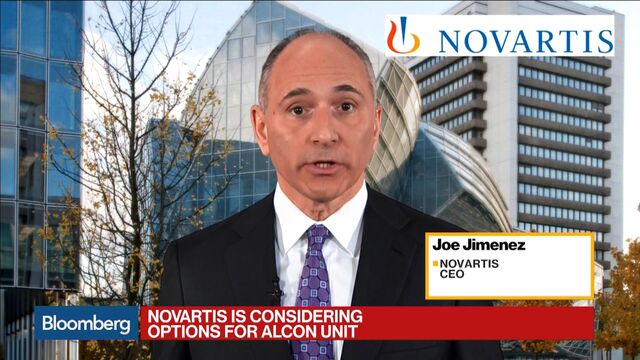 Novartis AG proposed buying back $5 billion of shares and said it's considering separating its embattled eye-care division after projecting that sales this year at Europe's second-biggest drugmaker will likely be largely unchanged from 2016.
Earnings, excluding some expenses, will probably remain flat or decline by a "low single digit" percent in 2017 as its top-selling medicine Gleevec faces increasing competition from cheaper copycat drugs, the Basel, Switzerland-based company said Wednesday in a statement.
For the Alcon division, which sells surgical equipment for ophthalmologists and contact lenses, Novartis is considering alternatives including a spinoff or an initial public offering, and expects to provide an update on the review by the end of the year. The business "continues to make progress" toward a turnaround, the drugmaker said.
Novartis is counting on newer medicines such as heart-drug Entresto and Cosentyx for psoriasis, as well as multiple sclerosis treatment Gilenya, to be catalysts over the next five years and to help offset a decline in sales of blockbuster cancer treatment Gleevec. Entresto's prescription volumes are likely to triple by the fourth quarter, Novartis said. The company, whose shares declined 15 percent in 2016, has also made improving operations at Alcon one of its five priorities last year.

"Now is the time for us to take a look at what's in the best interests of Novartis shareholders for that unit,'' Chief Executive Officer Joe Jimenez said in an interview with Bloomberg Television's with Anna Edwards and Manus Cranny. "This is going to include all options, including retaining the business to exiting the business.''
Shares of Novartis climbed 0.3 percent to 69.75 Swiss francs as of 9:12 a.m. in Zurich trading.
The drugmaker's profit in the three months ended Dec. 31 dropped for the eighth straight quarter as generic competition eroded sales of Gleevec. Earnings excluding some items fell to $1.12 a share from $1.14 a year earlier, and compared with the $1.13-average of analysts' estimates compiled by Bloomberg. For the year, core EPS dropped 5 percent while sales slumped 2 percent to $48.52 billion.
At Alcon, sales declined 3 percent to $5.81 billion in 2016 as revenue from surgical equipment fell, while core operating income, a measure of profit, plummeted 31 percent to $850 million. This year, sales may remain mostly flat or grow by a "low single digit" percent, Novartis said.
The Swiss company boosted its investment in Alcon last year to accelerate sales and improve customer service, and made some small acquisitions to bolster its pipeline. Other steps to fix the operations included moving the ophthalmic pharmaceutical drugs from Alcon to the pharmaceuticals division a year ago, and appointing a new chief for the unit.
In the pharmaceutical business, sales of Gleevec dropped 29 percent to $3.32 billion last year, while revenue from Gilenya jumped 12 percent to $3.11 billion. Cosentyx, launched in February 2015, also became a blockbuster medicine, with sales exceeding $1 billion for the first time. Meanwhile Entresto, whose sales are projected to cross $1 billion next year, generated revenue of $170 million in 2016.