Harvard's New Fund Manager, Copying Yale, Will Farm Out Money
By
Largest fund repudiates decades-old approach after poor return

Half of staff will depart as endowment turns more to outsiders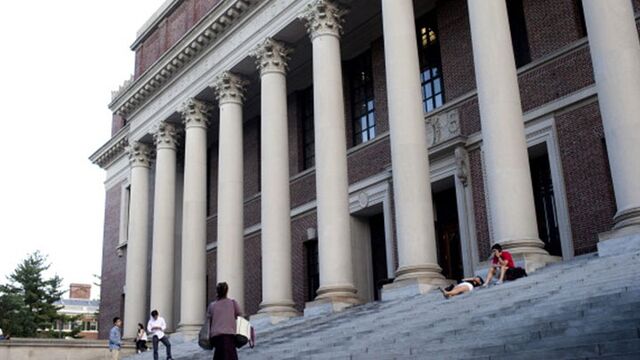 The new head of Harvard University's endowment moved quickly to remake the fund in the model of better-performing rivals such as Yale, pledging to cut its 230-person staff in half and shift most of its money to outside managers.
The change marked an extraordinary repudiation of an investment strategy dating to the 1990s. Under that approach, Harvard hired its own managers -- offering multi-million-dollar paychecks to the top performers -- to oversee its wealth.
While it once flourished with this strategy, it has more recently lagged Yale and other rivals that farmed out its money to the best investors they could find. Harvard hired Nirmal "Narv" Narvekar, who started in December, to turn around the $35.7 billion fund, the largest in higher education. At Columbia, where he outperformed Harvard with a staff of only 20, Narvekar used the outsourcing approach.
"We can no longer justify the organizational complexity and resources necessary to support the investing activities of these portfolios," Narvekar, 54, wrote Wednesday in a letter to Harvard. "Therefore, we have made some important but very difficult decisions."
Harvard lost 2 percent on its investments in the year ended June 30 as most schools struggled with small losses. It has generated an average annual return of 5.9 percent during the last five years, among the worst in the Ivy League and trailing peers such as Yale, which returned 10.3 percent, among the best in higher education.
Pay Overhaul
The endowment is also overhauling its evaluation of staff whose pay had been controversial among alumni. Last year, the consulting firm McKinsey & Co., hired to help come up with a plan to improve performance, had been critical of the targets the university for the fund and for pay. During the half-decade Kinsey studied, Harvard paid 11 money managers a total of $242 million, 90 percent of which was made up of bonuses, tax filings show.
Read More: Harvard Called 'Lazy, Fat, Stupid' in Endowment Report Last Year
McKinsey noted that some employees complained the "benchmarks" were too easy to beat and that managers could win bonuses for their investments even when the entire fund underperformed. In his letter, Narvekar criticized this "silo" approach to money management. Instead, he said, the endowment will move to tie pay to the overall performance of the fund, fostering what he called a "generalist" approach.
Slashing Staff
Harvard was unusual among endowments because it both farmed out money to hedge funds and private equity managers while hiring portfolio managers who traded in stock and bond markets, a legacy of former chief executive Jack Meyer who left in 2005. All of that internal management, representing billions of dollars, will now be outsourced.
The school's endowment, officially called Harvard Management Co., will shut down its internal hedge funds by June 30, the end of the fiscal year, and about half its employees will depart by year-end.
Its direct real estate investments are expected to be spun out and become an external management firm by the end of the year, while the natural resources portfolio, focused on timber and agriculture investing, will continue to be managed internally.
Along with the strategic shift, first reported by the Wall Street Journal, Harvard said it named Rick Slocum as chief investment officer, starting in March. Slocum was most recently chief investment officer of The Johnson Co., a single-family office based in New York.
Narvekar said he expected the transformation of the fund to take five years to "position both the organization and portfolio." He also cautioned against expecting chart-topping returns, saying that Harvard should take risk into account, as well.
Mark Williams, a Boston University executive-in residence who specializes in risk management, said the moves mark the end of a long, painful realization that its strategy was failing, a capitulation he considered "long overdue."
Williams said the move will mark an opportunity for outside managers eager to oversee funds for such a prestigious client: "It's going to be a bonanza for those money shops."


Before it's here, it's on the Bloomberg Terminal.
LEARN MORE