France's Valls, Hamon Clash Over Basic Income in Primary Debate
By
Benoit Hamon is favorite in Sunday's Socialist primary run-off

Debate also showed different views on deficits, place of Islam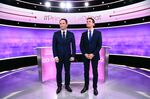 The two remaining candidates in the French Socialist Party's primary expressed dramatically different views of the country's economic future as they clashed in their only debate ahead of Sunday's vote.
Benoit Hamon defended his proposals for a shorter work week and a basic income of 750 euros ($800) a month for all citizens, saying technical change threatens to make work rare. Manuel Valls said lower payroll taxes and job training in new technologies would enable the country to keep creating jobs and cut France's 10 percent unemployment rate.
"Work has become rarer and rarer, and we must prepare now," said Hamon, 49, a former education minister. "We must share work; some don't have it, some suffer from it."
Valls, a 54-year-old former prime minister, responded that "our economies are changing, the nature of work is changing, but work is not going to disappear. Some professions will disappear and some professions will be created. It's up to us to create and adapt." He cited French advances in electric cars, and said every worker should have the right to lifelong job training.
Hamon took 36 percent of the vote in the primary's first round last Sunday, with Valls second at 31.5 percent. Hamon is the favorite for this Sunday's run-off, having won the endorsement of third-placed Arnaud Montebourg, who took 19 percent. Regardless, neither man is likely to be France's next president. Polls suggest the Socialist candidate will finish a distant fourth or fifth in the first round of the presidential election on April 23, with nationalist Marine Le Pen and Francois Fillon from the center-right Republicans going through to the May 7 runoff.
According to a flash Internet poll by Elabe, 60 percent of viewers said Hamon won the debate while 37 percent said Valls won.
Hamon and Valls represent opposite wings of the French Socialist Party, and Hamon quit Valls's government in 2014 over what he said were overly business-friendly policies.
"Valls faces a very hard challenge," Bruno Cautres, a professor at Sciences Po Institute in Paris, said in an interview before the debate. "The momentum is clearly with Hamon." 
Sharing the Wealth
Hamon avoided repeated questions from the debate moderators over how he'd pay for his basic income for all, explaining that it would be phased in over several years and that there's scope to raise taxes on wealth, stock options, robots, and multinational companies, and that more exercise and lower pollution would cut medical bills. "A universal income isn't an additional cost, but a sharing of riches," he said.
A study by OFCE, an economics research unit linked to Sciences Po, said the measure would cost a net 480 billion euros a year, after accounting for various existing welfare payments it would replace. That's equal to 22 percent of gross domestic product, in a country where taxes already account for 45 percent of economic output. Among 35 rich countries tracked by the OECD, only Denmark has a higher tax take.
When Hamon said many French young people were unable to find a job or were in short-term contracts, Valls interrupted to say "It's not like that everywhere in Europe."
"What he proposes is just not possible without a massive increase in taxation," Valls said.
Honoring Commitments
Valls said France had to live up to European Union commitments to bring its budget deficit down to 3 percent, though he said he wouldn't go much further because of the need to invest in new technologies and boost military and police spending.
Hamon said he'd renegotiate European treaties on deficit and debt targets. "We have to do away with this obsession of 3 percent deficits," he said.
The men also clashed on social issues, with Hamon arguing that France needed to be more accepting of pious Muslim practices. "I don't want to live in a country where the only good Muslim is a Muslim who isn't a Muslim," Hamon said. "Secularism shouldn't be used as a weapon against our Muslim co-citizens who have nothing to do with radicalism."
Speaking about Islamic-style head scarves, Valls said "we have to stop thinking these are religious symbols. We must not cede ground. We must say to these women that we are here to help you be emancipated."
There was less disagreement over combating terrorism, with both saying that young French militants returning from having served with Islamic State in Syria had to be arrested and tried, and that the European Union needed to strengthen controls on its external borders. They both backed ongoing French military operations in Mali, Syria and Iraq, and agreed European nations needed to increase military cooperation in response to a more aggressive Russia and a less predictable U.S.
One question came via Internet, and was whether they spoke English. Hamon answered simply "Yes." Valls, who was born in Barcelona, responded, in English, that "I speak very bad but I speak well Spanish."
Before it's here, it's on the Bloomberg Terminal.
LEARN MORE