markets
China Policy Signals Perplex Market as Fidelity Says 'Confused'
By
Central bank has been tightening and loosening liquidity

PBOC using short-term rates, lending tools to tweak policy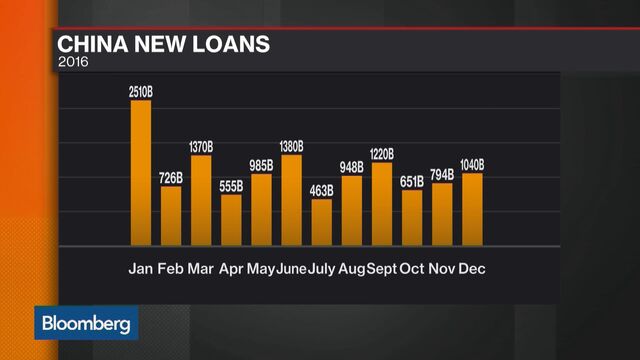 China's frequent tweaks to monetary policy are puzzling market watchers.
In recent weeks, the People's Bank of China has been using lending tools to both tighten and loosen liquidity as authorities seek to curb leverage while preventing a cash squeeze before the country's biggest annual holiday starts on Friday.
"I'm very confused," Tim Orchard, Fidelity International's chief investment officer for Asia Pacific excluding Japan, said at a briefing in Hong Kong. "They're trying to send signals the whole time and trying to micromanage the economy. That looks like a bit of a muddle sometimes when you're looking at it from the outside."
The PBOC startled analysts on Tuesday by increasing interest rates on medium-term loans that it uses to manage liquidity, announcing the change in a brief statement posted on its Weibo social media account The move came days after the central bank said it provided a one-month "temporary liquidity facility" to large banks, without detailed explanation, and injected a record net 1.13 trillion yuan ($164 billion) in open-market operations during the course of the week.
Li Liuyang, a market analyst at Bank of Tokyo-Mitsubishi UFJ Ltd. in Shanghai, said he was "quite surprised" by the PBOC's decision to boost rates, given the central bank had been trying to stabilize market sentiment in previous weeks. Beijing Gao Hua Securities Co.'s Song Yu, the top-ranked forecaster for the Chinese economy, said the PBOC's mixed signals are increasing volatility in money-market rates, which can lead to "misunderstandings about policy intention."

China's one-year interest-rate swaps, which reflect market expectations for seven-day repurchase rates over a year, jumped the most since March 2015 on Tuesday. The seven-day repo rate climbed to an 18-month high last week.
Song, whose firm is Goldman Sachs Group Inc.'s joint-venture partner in the mainland, called for policy makers to tighten monetary policy to reduce ambiguity and avoid overheating in the economy.
Since August, the PBOC has been guiding short-term interbank rates higher to dissuade people from using borrowed funds to buy assets such as bonds, while stopping short of raising benchmark lending rates from a record low.
The central bank has ample policy ammunition and it needs to better coordinate its short- and long-term tools to make them more effective, Bank of Kunlun analyst Li Jianjun was cited as saying in the Financial News, a PBOC publication.
The nation's financial markets are closed for a week from Friday for Lunar New Year holidays, for which households and firms typically need more cash.
For now, analysts are still being wrong footed. Banks including Goldman Sachs, Bank of Tokyo-Mitsubishi UFJ and Australia & New Zealand Banking Group Ltd. speculated on Tuesday that the monetary authority would raise interest rates in open-market operations for the first time since 2013. The central bank refrained from doing so on Wednesday.
"They're walking a tightrope," Orchard said.
— With assistance by Justina Lee, Tian Chen, Jeff Kearns, and Miao Han
Before it's here, it's on the Bloomberg Terminal.
LEARN MORE