Boeing 787 Dreamliner Turns Into Rainmaker, and Shares Soar
By
Planemaker sees increase in aircraft deliveries this year

Investors boost stock to record on potential cash bounty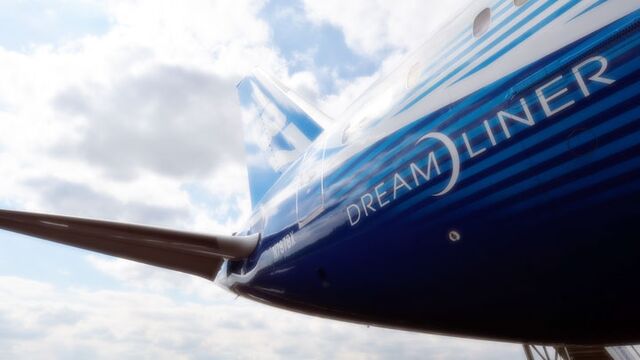 Boeing Co. shares reached an all-time high as the 787 Dreamliner emerged from a decade of losses to help the company post rising profit and weather a turbulent market for wide-body jetliners.
The world's largest planemaker is counting on the marquee carbon-fiber jet and faster output of the single-aisle 737, a workhorse with discount airlines, to bolster results this year. Boeing forecast higher cash and earnings on Wednesday, while predicting a sales decline as it makes fewer 777 wide-body aircraft.
Investors, focused on Boeing's potential cash bounty, responded favorably. The stock was the top performer among the 30 members of the Dow Jones Industrial Average as the index climbed past 20,000 for the first time. The shares rose 4.6 percent to $167.94 at 2:36 p.m. in New York.

The quarter's results also were a relief compared with last year, when the company caught investors off-guard with a forecast of fewer 737 deliveries. "We think this release is pretty boring -- and boring is good," Robert Stallard, an analyst with Vertical Research Partners, said in a report to clients.
Boeing has pledged to return all of its free cash flow to shareholders, repurchasing shares and bolstering its dividend as a near-record order backlog shelters the manufacturer from market shocks. Even so, the Chicago-based company had struggled to win over investors worried about waning demand for new aircraft amid moderately priced oil and the future of its aircraft sales to China amid a heightened trade tensions.
Trump Dialogue
Dennis Muilenburg, Boeing's chief executive officer, assured analysts Wednesday that order deferrals, at only one-third of historical averages, are no threat to the 737 production increases at the heart of Boeing's cash-centric strategy. And he struck an optimistic note for Boeing's future in China, describing a "very open dialogue" with President Donald Trump.
As a candidate, Trump warned of job losses if Boeing followed through with plans to build a factory in China, where it would paint planes bound for local carriers. To Muilenburg, the 737 finishing center is an example of how targeted foreign investment can bolster U.S. hiring. Every plane that would pass through the new facility would be built in the U.S., part of the aerospace sector's $80 billion positive trade balance, he said.
"We all understand that a productive and healthy relationship with China is key," Muilenburg said during an earnings conference call. "It will be grounded in principles of fair trade and a level playing field for all competitors."
Boeing's record share price also reflects a stock buyback binge last year, as the company repurchased 7 percent of its shares, said George Ferguson, an analyst with Bloomberg Intelligence. It's not clear how long the practice can be sustained in an industry that requires heavy investment, he said.
While the manufacturer generated $10.5 billion in cash from operations, it spent far more: $7 billion on stock, $4.6 billion on research, $2.8 billion on dividends and $2.6 billion on property, plants and equipment. "They can't keep spending this way and not continue to dwindle cash balances," Ferguson said by phone.
Revenue Forecast
Revenue will fall to a range of $90.5 billion to $92.5 billion this year, Boeing said, as the company slows production of the 777 this month and in the third quarter because of an order shortfall. Analysts had expected annual sales of $93 billion.
While the cuts will mean fewer deliveries of one of Boeing's main profit drivers, total shipments will rise as Boeing cranks up production of the 737, its main source of profit. Boeing expects to deliver between 760 and 765 commercial airplanes, an increase from last year's 748.
Operating cash flow will be about $10.8 billion, up from the $10.5 billion generated in 2016. Earnings adjusted for pension expenses will probably be $9.10 to $9.30 a share this year, compared with the $9.24 predicted by analysts.
To keep its cash machine humming, Boeing is counting on a smooth debut for the upgraded 737 Max while it speeds output by 12 percent at its narrow-body factory in Renton, Washington, to a record 47 jets a month.
Dreamliner Benefit
Boeing also benefited as deferred production costs for the 787 Dreamliner fell $215 million to $27.3 billion, according to the company's website. The planemaker reached the crossover point last year where unit costs for the cutting-edge jetliner finally fell below its sales price.
The balance of deferred costs should further shrink with each 787 that rolls out of Boeing's factories. The jetliner is the first built of spun carbon-fiber composites rather than aluminum, and the most expensive in Boeing history. Deferred costs ballooned after it entered commercial service in 2011, more than three years late.
Fourth-quarter earnings were marred by a 32-cent a share accounting charge for the KC-46A tanker program, which was knocked off schedule by technical and design issues.
The $312 million pretax charge is the latest in a series of accounting losses as Boeing prepares to deliver the first 18 aerial gas stations to the U.S. Air Force this year. The five flight-test aircraft have completed 1,500 hours in the air and the company is no longer discovering new technical risks, Muilenburg said.
"It's not surprising," Ken Herbert, an analyst with Canaccord Genuity, said of the latest charge. "We knew it was going to be a difficult program."
Before it's here, it's on the Bloomberg Terminal.
LEARN MORE