Aussie CPI Suffers Yuan Effect as Reflation Bypasses Down Under
By
Lower Aussie clothing prices reflects cheap Chinese imports

Fuel prices among the gains, reflecting OPEC deal on output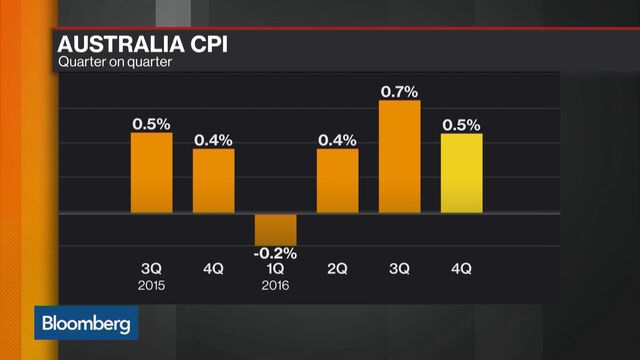 Australia's slower-than-forecast inflation partly reflects the weakness of China's currency against the local dollar, pushing down the cost of imports like clothing. The upshot: reflation emerging in parts of the developed world remains unseen Down Under.
Key Points
Quarterly trimmed mean gauge rose 0.4% vs estimated 0.5%
Quarterly headline CPI rose 0.5% vs estimated 0.7% 
Annual CPI rose 1.5% vs forecast 1.6%, below the bottom of the central bank's target range for a ninth straight quarter
Aussie dollar slumped about half a U.S. cent to 75.45 cents at 1:36 p.m. in Sydney
Big Picture
Reserve Bank of Australia Governor Philip Lowe has signaled a willingness to tolerate weaker price growth to avoid further inflating east coast housing that is already among the world's dearest. His desire to avoid cutting interest rates further from the current record-low 1.5 percent is being challenged, however, by a third-quarter slump in the economy and recent gains in the jobless rate.

Indeed, the reflation picture emerging in parts of the global economy remains a distant prospect Down Under, where weak wage growth and the currency's strength are suppressing prices. Indeed, while there's been cheering at the increases in producer prices in China -- Australia's biggest trading partner -- they've actually fallen when overlaid in Aussie dollar terms, according to Macquarie Bank Ltd.
Economist Takeaways
"We've consistently seen over the course of 2016 the Aussie dollar appreciating against the yuan and it's now buying as many yuan today as it did back two years ago," said James McIntyre, head of economic research at Macquarie Bank. "While the CPI outcome looks to be in line with the RBA's expectations, that was already a weak inflation profile and it's not the only thing going into the central bank's new forecasts due in February." 
"In contrast to recent market pricing, which was indicating the next move was up, the underlying economic data and inflation picture that we've got does continue to point to rates being on hold for a while with a residual easing bias," said McIntyre.
"The RBA won't be dusting off the interest-rate cut button at the policy meeting on Feb. 7, particularly as it has signaled it's willing to put up with low underlying inflation when the housing market is strong," said Paul Dales, chief Australia and New Zealand economist at Capital Economics Ltd. in Sydney. "But if underlying inflation rises slower than the RBA expects, as we believe it will, then rates may be cut to 1 percent later this year."
Other Details
Annual trimmed mean CPI advanced 1.6%, matching estimates
Annual weighted median CPI climbed 1.5% vs. forecast 1.4% increase
Tradable goods prices, which are impacted by the currency and other international factors, fell 0.1% from the previous quarter
Non-tradables, which are affected by domestic variables like utilities prices, rose 0.8%
Clothing and footwear declined, led by a 5.1% drop in the accessories category; and international travel costs and accommodation fell 2.6%
Among the increases, tobacco advanced 7.4% from prior quarter and the cost of automotive fuel gained 6.7%, reflecting a deal on production among some oil exporters that saw West Texas Intermediate advance more than 11% over the quarter
Traders are pricing in a maximum 17% bet that rates will be cut by July; the bets on a hike build late in the year to 28% in November and December