AT&T CEO Gives Trump Rave Reviews for Tax Plan, Regulator Pick
By
Lower corporate taxes will stimulate investment, spending: CEO

FCC Chairman Pai to reduce regulation, Stephenson says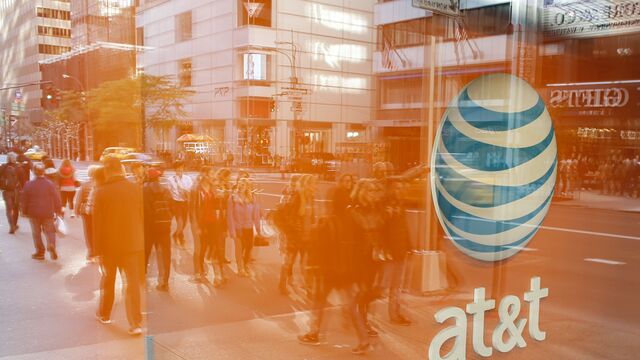 President Donald Trump's plan to reduce corporate taxes in the U.S. will trigger a wave of investment, said AT&T Inc. Chief Executive Officer Randall Stephenson, lavishing praise on the man who has opposed the telecom giant's blockbuster acquisition of Time Warner Inc.
Trump's pick to lead the Federal Communications Commission, Ajit Pai, will also help encourage spending in the industry by reducing regulation, Stephenson said Wednesday on a conference call with analysts. He spoke glowingly of his meeting with Trump in New York this month before the inauguration.
"I was impressed," Stephenson said. "The president had a very specific agenda in terms of what he thought was critical, and that was tax reform and regulatory reform. And we spoke at length about each of those. So I left with a degree of optimism."
During his campaign and in private conversations after the election, Trump has singled out AT&T's $85.4 billion deal with Time Warner as a consolidation of power he wouldn't allow. The deal didn't come up in Stephenson's conversation with Trump, Dallas-based AT&T has said. The wireless and pay-TV giant is pinning its future on transforming into a media powerhouse with approval of the deal, which will face antitrust scrutiny from the U.S. Justice Department.
"At AT&T if you saw tax rates move to 20 percent to 25 percent, we know what we would do," Stephenson said. "We would step up our investment levels, and there are things we would like to accelerate if we had a more favorable tax environment."
While AT&T's tax rate in 2015 was about 34 percent, the company actually paid closer to 20 percent after adjustments. The company hasn't supplied detailed figures for 2016 yet.
Pai, who had been an FCC commissioner since 2012, has been a critic of lengthy merger reviews and an opponent of net neutrality rules. AT&T has said it won't keep Time Warner's wireless licenses, which means the FCC may not even have oversight over the merger. But Pai will help determine how closely the agency scrutinizes companies like AT&T on matters such as net neutrality.
The Justice Department has asked for detailed information about the Time Warner transaction, portending an in-depth antitrust investigation. AT&T says it's in a different business than Time Warner, which means the deal shouldn't be viewed as a threat to competition.
In buying Time Warner, Stephenson is counting on a surge in demand for mobile video to ignite growth. Without the merger, revenue this year will climb at a rate in the low single digits, and adjusted earnings per share will climb in the mid-single digits, AT&T said in a statement Wednesday. Analysts had projected sales growth of 2 percent and a 4 percent increase in earnings, on average.
Fourth-quarter earnings rose to 66 cents a share, excluding some items, in line with the average of analysts' estimates. Sales slipped to $41.8 billion from $42.1 billion a year earlier. Analysts were projecting $42.1 billion.
Like Verizon Communications Inc., AT&T is fighting to add customers and increase revenue amid a price war with smaller rivals T-Mobile US Inc. and Sprint Corp. As the wireless industry gets more saturated and consumers ditch traditional pay-TV for online alternatives, the results highlight why AT&T has been looking to own content rather than just distribute it. The company expects to close the Time Warner deal by year end and become the owner of prime TV and film content from the Warner Bros. movie studio and TV networks such as TNT and HBO.
AT&T shares rose less than 1 percent to $41.65 in late trading after the results were announced.
Holiday promotions fetched 520,000 new monthly wireless subscribers for the second-largest U.S. wireless carrier in the quarter, AT&T said last week. That was more than the 385,000 projected by analysts but fewer than the 526,000 added a year earlier.
The company signed up new pay-TV customers for the first time in seven quarters thanks entirely to its new live online video service, DirecTV Now. It added more than 200,000. Analysts were expecting 61,000.
The rate of monthly U.S. wireless subscriber defections, or churn, was 1.16 percent, in line with estimates and compared with 1.05 percent in the third quarter.
Capital spending for 2017 will be about $22 billion, compared with $22.4 billion last year.
Before it's here, it's on the Bloomberg Terminal.
LEARN MORE