Haley Confirmed for UN Envoy as Trump Cabinet Picks Gather Steam
By and
South Carolina governor wins bipartisan support in Senate

Senate panels advance Carson, Ross, Chao nominations as well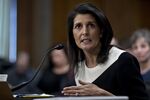 The Republican-led Senate hastened its drive to install President Donald Trump's Cabinet, as Nikki Haley was confirmed Tuesday as ambassador to the UN and committees approved three more of his nominees.
Haley was confirmed overwhelmingly on a 96-4 vote, with most Democrats joining in support for the Republican governor of South Carolina who's the daughter of immigrants from India. Even so, Republicans continued to denounce Democrats for preventing other Trump nominees from being confirmed before next week at the earliest.
Senator Ben Cardin, the top Democrat on the Foreign Relations Committee, said on the Senate floor that he was reassured by Haley's "moral clarity" and that she would stand up for human rights and democracy, both at the United Nations and in the new administration.
"She gave us confidence that she would speak up in the Cabinet room," including to Trump, Cardin of Maryland said hours after the Foreign Relations Committee approved the nomination.
Why Trump Has Strong Hand in Confirmation Process: QuickTake Q&A
Majority Leader Mitch McConnell took procedural steps Tuesday to set up a Senate floor vote next week to confirm former Exxon Mobil Corp. chief executive officer Rex Tillerson as secretary of state. Several Republicans had expressed concern that he may not be tough enough on Russia, but Tillerson managed to win their public support, all but ensuring his confirmation.
Carson, Ross, Chao
Separately on Tuesday, the Senate Banking Committee affirmed Ben Carson, a retired surgeon and 2016 Republican presidential contender, to lead the Department of Housing and Urban Development on a voice vote.
Two other nominees won approval from the Senate Commerce panel, advancing to the full Senate: billionaire Wilbur Ross, a private equity investor and Trump's pick to lead the Commerce Department, and Elaine Chao to head the Transportation Department. Chao, a former labor secretary who served eight years in President George W. Bush's Cabinet, is married to McConnell.
The votes came despite delays for some of Trump's picks requested by Democrats who want more time to examine their potential conflicts of interest, qualifications and policy positions.
Delayed Votes
The Senate Judiciary Committee on Tuesday delayed for a week a vote on Republican Senator Jeff Sessions' nomination to serve as attorney general after Democrats -- some of whom have cited racially tinged comments he made years ago -- asked for more time. The Senate Energy and Natural Resources Committee delayed votes on former Texas Governor Rick Perry's nomination for Energy secretary and Republican Representative Ryan Zinke's nomination for Interior secretary.
Senator Maria Cantwell, the top Democrat on the energy panel, said Democrats never agreed to hold votes Tuesday on Perry and Zinke, citing unanswered questions about Trump's plans for renewable energy and energy efficiency programs. She added that the votes are likely to take place next week.
Republicans control 52 votes in the Senate, and Democrats can do little to block Trump's nominees if GOP lawmakers hold together. Each of Trump's executive-branch picks will require only 51 votes. Cornyn on Monday dismissed Democratic complaints about some of the selections as "hot air" and predicted all will be installed in their top jobs soon.
Democratic Objections
While the Senate was in session Tuesday, it's out for the rest of the week so that Republicans can go to Philadelphia to attend an annual retreat.
In addition to Haley, the full Senate has approved three new Cabinet secretaries: James Mattis to head the Pentagon, John Kelly to lead the Department of Homeland Security, and Mike Pompeo to run the Central Intelligence Agency. Tillerson won the Senate Foreign Relations Committee's approval on a narrow 11-10 vote Monday.
All four of the nominees approved by committees Tuesday are seen as likely to win easy confirmation, although Carson still faces persistent questions about his qualifications to lead a vast and complex housing agency.
"Dr. Carson is not the nominee I would have chosen to lead HUD, due to both his lack of experience and his often troubling public statements over the last three years," Senator Sherrod Brown of Ohio, the top Democrat on the Banking Committee, said in a statement Tuesday. "But despite my reservations, and my disagreements with some of his positions, I will give Dr. Carson the benefit of the doubt based on commitments he has made to me in person and to this Committee in his testimony and written responses."
As the confirmation process has unfolded, the list of the most controversial ones has winnowed down rapidly. Those that face the most Democratic resistance could see confirmation votes pushed into next month, including Treasury secretary pick Steven Mnuchin, Health and Human Services nominee Tom Price, Environmental Protection Agency nominee Scott Pruitt, Education secretary nominee Betsy DeVos and Labor secretary pick Andrew Puzder.
Price, in a hearing Tuesday before the Senate Finance Committee, defended himself against tough questions about some of his stock investments in health-care companies. Democrats and some outside watchdog groups are calling for an ethics investigation into his trades in health-care stocks while handling legislation that could affect the shares.
Senator Ron Wyden of Oregon, the panel's top Democrat, asked Price if he had used "bad judgment" by participating in a private placement at "below-market rates."
Price denied that he had. He said "everything I did was above-board" and that his actions were "legal and transparent."
— With assistance by Sarah Tully, Steven T. Dennis, Ari Natter, and Terrence Dopp
Before it's here, it's on the Bloomberg Terminal.
LEARN MORE