Trump Says Undocumented Immigrants Cost Him Popular Vote
By and
President makes remark at private White House reception

No evidence supports claim of millions of illegal votes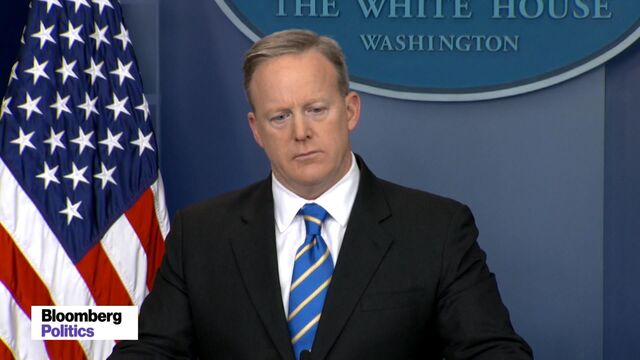 President Donald Trump told members of Congress on Monday at a private reception that he believes he lost the popular vote in his election because millions of undocumented immigrants cast votes for his opponent, his press secretary said.
The claim is unsubstantiated and Trump has previously faced criticism for making a similar remark on Twitter.
Trump told Republican and Democratic congressional leaders at the White House reception that he would have won the popular vote had three to five million undocumented immigrants not cast ballots for Democrat Hillary Clinton, three people familiar with the remark said. Two of the people said Trump used the term "illegals" to describe the voters.
Spicer confirmed Trump made the remark in a briefing for reporters on Tuesday.
Clinton won the national popular vote by about 2.9 million ballots, but Trump won enough states to secure 306 Electoral College votes and the presidency.
"He was having a discussion with some folks and mentioned something in passing, which has been a longstanding belief he has maintained," Spicer said. He declined to discuss in any detail why Trump believes the unsubstantiated allegation.
"It's a belief he maintains," Spicer said. "A concern that he has about voter fraud that's based on information that's been provided."
Pew Study
Spicer referred to a study "that came out of Pew in 2008" as evidence that 2016 voter fraud was widespread.
It was not clear what information Spicer was referring to. A Pew Charitable Trusts spokeswoman said that no such study exists.
"We did not publish a report in 2008 on that topic," Pew spokeswoman Kelly Hoffman said in an e-mail. "Our work has focused on inefficient and inaccurate voter registration processes, which are not evidence of fraud at polling places."
A 2012 study by Pew found that as many as one in eight voter registrations in the U.S. either had significant inaccuracies or were no longer valid. The author of that study, David Becker, said that the research didn't back up Trump's claim of vote fraud.
"As I've noted before, voting integrity better in this election than ever before," Becker, now the executive director of The Center for Election Innovation & Research, said Tuesday in a Twitter post. "Zero evidence of fraud."
No Evidence
It is illegal for anyone but citizens to vote in most U.S. elections, and there is no evidence to support Trump's claim that at least 3 million undocumented immigrants voted in the 2016 election. There were sporadic reports of people voting illegally, as there are in nearly all elections, but federal and state officials of both parties said that the election's integrity was overwhelmingly secure.
Trump first asserted that illegal ballots had tilted the popular vote in Clinton's favor in a Nov. 27 tweet.
"In addition to winning the Electoral College in a landslide, I won the popular vote if you deduct the millions of people who voted illegally," he said.
He provided no evidence for the claim. Elections officials in California, New Hampshire and Virginia said it was baseless. The fact-checking website Politifact gave Trump a "pants on fire" rating for the statement.
He has subsequently said that he would have won the popular vote had he campaigned for the most votes in the election, rather than focusing on an Electoral College victory.
— With assistance by Toluse Olorunnipa, Justin Sink, and Jennifer Jacobs
Before it's here, it's on the Bloomberg Terminal.
LEARN MORE