markets
Dollar May Reach Parity With Euro by End of Year, Goldman Says
By and
President Trump has said currency already "too strong"

Dollar-euro to hit parity by end-2017, says Goldman's Hatzius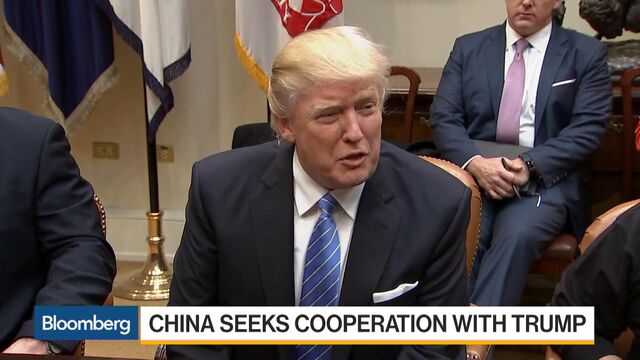 The strong U.S. dollar will continue and the Federal Reserve will normalize policy at a faster rate than the market expects, according to Goldman Sachs Group Inc. Chief Economist Jan Hatzius.
"We do expect a strong dollar," Hatzius said on Bloomberg TV on Tuesday in response to a question about whether he expects the strong currency to continue. He forecast the dollar would reach parity with the euro by the end of the year.
The dollar has strengthened more than 7 percent against the yen and 2.6 percent against the euro since the Nov. 8 election amid expectations President Donald Trump will boost economic growth through tax cuts and spending increases. Trump has called the currency "too strong" while U.S. Treasury Secretary nominee Steven Mnuchin said an "excessively strong dollar" could have a negative short-term effect on the economy.
The strength of the U.S. currency is "mainly based on interest rate differentials," according to Hatzius, who sees this continuing, with the Federal Reserve normalizing policy while "the ECB and the Bank of Japan still can keep policy very easy for a long time to come".
Goldman Sachs thinks that the Fed will raise rates faster than the market is expecting, Hatzius said. The bank forecasts that the Fed will raise rates three times this year to 1.5 percent, higher than the median estimate of 1.25 percent.
"The economy is generally in pretty decent shape in the U.S.," Hatzius said. The main change to the outlook is easier fiscal policy, which should start to take effect from late 2017 and "prolong this period of above trend growth into 2018," he said.
Trump expressed concern about the dollar's appreciation in an interview with the Wall Street Journal this month, saying the currency was already "too strong". Mnuchin told senators last week during his confirmation hearing that a strong dollar is important over the long term, while noting that it's currently "very, very strong."
Before it's here, it's on the Bloomberg Terminal.
LEARN MORE