Scotland Gets Closer to Independence Vote With Brexit Ruling
By
Sturgeon says Scotland's voice not being heard on Brexit

Supreme Court says no legal requirement to consult Edinburgh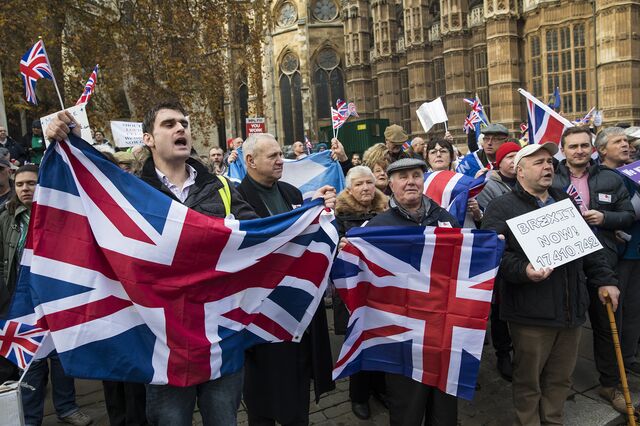 Scotland took another step closer to a second referendum on independence after the U.K.'s highest court ruled that the parliament in Edinburgh has no legal right to challenge Brexit.
Scottish First Minister Nicola Sturgeon, in a statement reacting to Tuesday's ruling, said the British government's promises to uphold a political convention to consult lawmakers in Scotland now were "not worth the paper they are written on." She said it's "becoming ever clearer" that Scotland must decide whether it should "take our future into our own hands."

"It is becoming clearer by the day that Scotland's voice is simply not being heard or listened to within the U.K.," said Sturgeon, leader of the pro-independence Scottish National Party that heads the semi-autonomous government in Edinburgh. "This raises fundamental issues above and beyond that of EU membership."
Prime Minister Theresa May and her government claim a mandate for Brexit after the U.K. as a whole voted to leave the European Union in last June's referendum. Yet north of the English border, every region of Scotland voted to stay in the bloc.
In its ruling, the Supreme Court decided that the U.K. Parliament will get to vote on triggering the legislation to leave the EU, though there was no legal obligation to do the same in regional legislatures. While opponents of Brexit welcomed the broader ruling, it means Scotland won't get a say beyond Parliament at Westminster, where the SNP's 54 lawmakers make it the third-largest party, unable to influence the move toward the EU exit.
Accommodating Scotland
That impotence reinforces the nationalist argument that the political system in the U.K. can't accommodate Scotland, according to Nicola McEwen, associate director at the Centre on Constitutional Change at Edinburgh University.
"It places the focus where it's always been and if it doesn't lead to any consensus it will make another independence referendum highly likely," said McEwen.
Read More: a QuickTake on Scotland's Independence Bid
With each twist and turn in the Brexit debate that's convulsing Britain, another vote on Scotland breaking away from the rest of the U.K. appears more imminent. Polls currently suggest the result would mirror that of a referendum in 2014, when Scots voted 55 percent to 45 percent against independence, but Sturgeon can now lay claim to an argument with which to sway skeptics: that Scotland is being side-lined democratically.
Democratic Deficit?
After ordering her ministers to prepare legislation for another independence referendum, Sturgeon put forward a package of proposals in December to keep Scotland's access to the single market and free movement of people. She called it a compromise and May said she would listen.
Then last week, May outlined a vision for Brexit that involved leaving the single market and potentially walking away from the EU without a deal. Sturgeon responded by saying the U.K. government thinks it "can do anything to Scotland and get away with it."
The Scottish government has to be seen to be doing everything it can to compromise and cooperate, said McEwen at Edinburgh University. There's no sign at the moment that the U.K. government is willing to accommodate Scotland's wishes, she said.
Given the current polling, "the Scottish government doesn't want to risk pushing ahead with a referendum on independence," McEwen said. "'But if they have to do it, they'd want to show they've exhausted all other possibilities so they can say it's a democratic issue."
Lagging Economy
Should there be another referendum campaign, there are still question marks over Scotland's finances, its place in the EU and what currency it would use.
Spain has long opposed accepting Scotland into the EU, concerned the region of Catalonia might seek to break away and follow. Spanish Prime Minister Mariano Rajoy said it was "important" that the U.K. court hadn't given Scottish lawmakers a vote on triggering Article 50.
Added to the mix are the collapse in the oil industry that was supposed to underpin an independent Scottish economy and what would happen to the border with England should the two countries end up in different unions. About two-thirds of Scotland's trade is with the rest of the U.K.
Performing Worse
The 156 billion-pound economy ($195 billion) has been performing worse than Britain overall. The latest figures show gross domestic product grew 0.7 percent year-on-year in the third quarter of 2016 compared with 2.2 percent for the U.K. Scotland's jobless rate meanwhile is higher than the U.K. average, albeit at just above 5 percent. More striking is the budget deficit based on government calculations as if Scotland were going it alone. At 9.5 percent of GDP, it would be more than double the U.K.
Kezia Dugdale, leader of the opposition Labour Party in Scotland, reiterated in a column for the Daily Record newspaper that her lawmakers oppose another referendum on independence and highlighted the importance of trade with the rest of the U.K.
"Only politicians with a Donald Trump-style attachment to the truth could deny that being part of the U.K. is even more important to Scotland than remaining in the EU," she wrote.
— With assistance by Ben Sills, and Esteban Duarte
Before it's here, it's on the Bloomberg Terminal.
LEARN MORE