California Attorney General Ready to Battle Trump If Needed
By
Becerra says he's not looking for fight, but won't stop either

Combatting climate change toward top of Becerra's agenda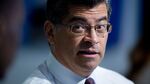 California won't pick a fight with President Donald Trump but it will be ready if challenged by the White House, its new Attorney General said minutes after being sworn in.
Xavier Becerra joins California leaders in Congress and the state legislature in pledging to stand up to a Trump push to roll back or override some policies supported by the state's Democratic majority. Becerra challenged opponents to find fault with the strategies that have made California the world's sixth-largest economy.
"I'm not interested in fighting with you, but if we're doing something wrong, tell us what we're doing wrong," Becerra told reporters in his first briefing after taking office Tuesday. "I don't think California intends on stopping what we've been doing."
Becerra will be joined by former U.S. Attorney General Eric Holder, who's been hired by the state to help "deal with potential challenges" from the Trump administration. Under Governor Jerry Brown, California will likely be a leader among states fighting federal policies on climate change, health care, civil rights and immigration, according to a statement issued this month by state Assembly Speaker Anthony Rendon.
The response from Becerra and the state was prompted by Trump's campaign pledges to overturn the Affordable Care Act, walk-back energy policies intended to combat climate change and deport millions of undocumented immigrants. In a state with 6.9 million eligible Hispanic voters -- the largest in the country -- Democrats have jumped at opportunities to challenge Trump's statements, including his unsubstantiated claim repeated Monday that millions of undocumented immigrants tilted the popular vote against him in November.
For more on Trump's actions on undocumented 'dreamers,' click here
"While no one knows what the new leaders will actually do, there are signs that are disturbing," Brown said in the governor's annual State of the State speech Tuesday in Sacramento. "We have seen the bald assertion of 'alternative facts.' We have heard the blatant attacks on science. Familiar signposts of our democracy –- truth, civility, working together –- have been obscured or swept aside."
Fighting Trump
Becerra is expected to join Democratic state attorneys general across the U.S. in battling Trump over consumer protection and environmental regulation. On Monday, attorneys general from 16 other states asked to join a federal appeals court battle in defense of the 5 1/2-year-old U.S. Consumer Financial Protection Bureau, created as part of the Dodd-Frank reforms that Trump has criticized.
Brown nominated Becerra to replace Kamala Harris, who won her U.S. Senate campaign in November. Brown, who earlier called Trump "a fraud" over his 2012 comment that climate change is a hoax, said in December that he was counting on Becerra to "aggressively combat" global warming.
Becerra, 58, was first elected to the House of Representatives in 1992, serving the 34th congressional district that includes downtown Los Angeles, and was chairman of the House Democratic Caucus and a member of the Ways and Means Committee. Born to a mother who immigrated from Mexico, Becerra was the highest-ranking Hispanic serving in Congress, where he was part of a bipartisan group of congressmen who unsuccessfully sought to forge an immigration overhaul bill.
— With assistance by Erik Larson
Before it's here, it's on the Bloomberg Terminal.
LEARN MORE