May Faces Hurdles to Starting Brexit Talks After Court Rules
By , , and
Supreme Court says Parliament must vote on Brexit Trigger

Government to push through short, 'straightforward' bill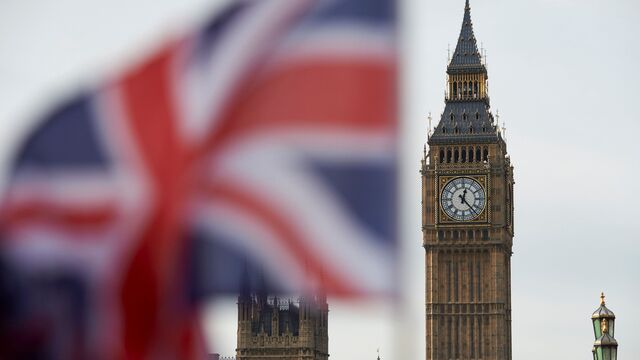 Prime Minister Theresa May faces a new set of hurdles in delivering Brexit after the U.K.'s highest court ruled she must pass an Act of Parliament before she can open divorce talks with the European Union.
Even as Brexit Secretary David Davis promised on Tuesday to move "swiftly" to pass legislation, lawmakers lined up to say they would use the Supreme Court's decision as an opportunity to soften May's plan for a clean break with the EU. Some will seek to place future roadblocks such as holding her to account through the two-year negotiations or pushing her to hold another referendum.
The ruling won't stop Article 50 of the Lisbon Treaty being triggered, with almost all members of Parliament saying they'll vote in favor of that. It may still jeopardize May's intention to do so by March 31, although the government said it's confident it can keep to the self-imposed deadline, and that it's important to do so.
"This will be a straightforward bill," Davis said in the House of Commons. "It's not about whether or not the U.K. should leave the EU. That decision has already been taken."
Follow @Brexit for the latest news, and sign up to our Brexit Bulletin for a daily roundup.
The pound was 0.5 percent lower at $1.2467 as of 1:45 p.m. London time as investors concluded there is still no brake on Brexit.
"Things can go wrong in Parliament, but I don't see what those things are at the moment," said Philip Cowley, professor of politics at Queen Mary University of London. "Even though there's a majority of members of Parliament who want to stay in the single market, I don't know how they amend the legislation."
Short Bill
May lost her argument that she alone could invoke Article 50 of the Lisbon Treaty as judges voted 8-3 against her. Having once hoped to avoid a vote for fear lawmakers would bog down her plans, she will now try to rush through a short bill, designed to keep her timetable on track and give as little scope for amendments as possible.
The legislation will have to go through five stages in each of the two chambers of Parliament, where supporters of leaving the EU are in the minority. Although it's possible to pass emergency legislation in as little as a day, it is rare and the process can take months. There are votes at each stage, and lots of opportunities for dissenters to propose amendments. Both houses must agree on the wording of the final law.
For more details of the parliamentary voting process, click here
While May's spokesman, Greg Swift, told reporters the ruling did "nothing to change the timetable," former Attorney Generals Peter Goldsmith and Dominic Grieve both said it could be tricky to pass a bill in time to begin the withdrawal by the end of March. The government may try to pass a so-called "program motion" to speed things up.
There were calls, including from within May's Conservative party, for the government to publish a so-called white paper -- essentially a proposal for future legislation -- outlining the government's plan for Brexit. Hilary Benn, the chairman of the cross-party Committee on Leaving the European Union, said members of the panel were "unanimous" in a call for a white paper to be published.
"If the government does not do so, then I have to say to him it would be
showing a lack of respect to this House of Commons," he told Davis, who rebuffed the request.
Devolved Administrations
In one piece of good news for May, the court ruled unanimously that legislatures in Scotland and Northern Ireland don't get to vote on the Article 50 process that starts to wrest the U.K. from the EU after 44 years. Scotland probably would have sought to block the exit.
Parliamentary critics of May, including some within her own party, will now seize the opportunity to shape her strategy amid concern she risks hurting the economy by jeopardizing trade to win control of immigration. For her critics, the need for amendments grew last week after May pledged to leave the EU's single market to win control of immigration and lawmaking -- essentially a so-called hard Brexit.
Economists said there was now a greater chance that plan would be diluted. It is "a positive for the long-term U.K. economic outlook," said Kallum Pickering, an economist at Berenberg Bank in London. "MPs will likely nudge government toward a softer Brexit -- one that prioritizes EU single market access over migration controls -- to get the bill over the line."
'Woe Betide'
Labour Party leader Jeremy Corbyn said that while the opposition won't frustrate Article 50, it will try to amend the bill. He aims to "build in the principles of full, tariff-free access to the single market," to ensure the government is accountable to Parliament through the negotiations and to put the final deal to a "meaningful" vote.
Tim Farron, the leader of the Liberal Democrats, former coalition partners of May's Conservatives when her predecessor David Cameron was premier, said his party will vote against Article 50 unless the government agrees to subject the ultimate Brexit pact to a referendum.
The Scottish National Party said it would make 50 amendments, including one which would require May to include the semi-autonomous governments in Scotland, Wales and Northern Ireland in its Article 50 decision.
Paul Nuttall, leader of the U.K. Independence Party, had this warning: "Woe betide those politicians or parties that attempt to block, delay or in any other way" subvert the will of the people.
Any hope the Supreme Court's ruling might herald an end to May's legal headaches are likely to be disappointed, as at least two new challenges gather pace. A Dublin court is being asked if the two-year exit process can be terminated at a later date, while two campaigners filed a lawsuit claiming the referendum didn't grant May the authority to pull Britain from the European single market.
— With assistance by Thomas Penny
Before it's here, it's on the Bloomberg Terminal.
LEARN MORE