J&J's Forecast Disappoints as Drugmaker Mulls Diabetes Unit Sale
By
CFO Caruso says shortfall is due 'solely to currency'

Fourth-quarter EPS beat estimates on drugs, medical devices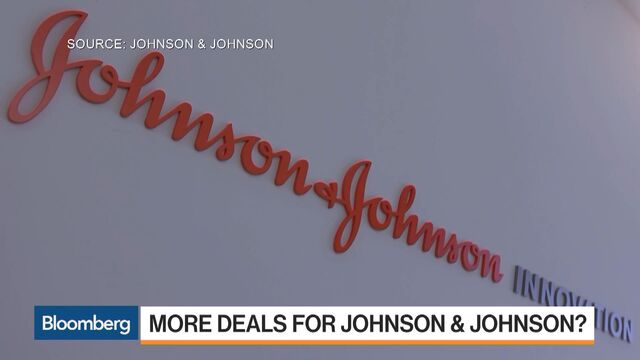 Johnson & Johnson forecast lower-than-predicted 2017 profit, blaming the impact of the stronger dollar, as negotiations drag into weeks with Swiss biotechnology company Actelion Ltd., potentially its largest deal ever.
J&J, the world's biggest health-care company, also said it's evaluating potential strategic options for its diabetes care business that could include a sale, partnerships or joint ventures, according to a statement Tuesday. The profit for this year will be $6.93 to $7.08 a share, excluding some items, J&J said, lower than the $7.11 average of estimates compiled by Bloomberg. Fourth-quarter earnings were $1.58 a share, topping projections of $1.56.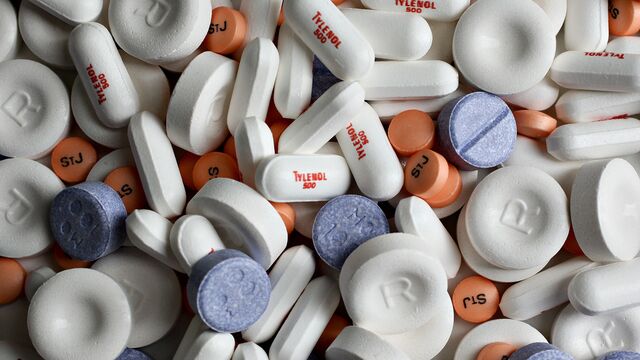 The shares fell 1.5 percent to $112.22 at 9:41 a.m. in New York, after declining as much as 2.4 percent, the biggest intraday drop since Dec. 7.
Chief Financial Officer Dominic Caruso attributed the shortfall in this year's outlook to the impact from foreign exchanges, saying analysts may not have adjusted their numbers.
"We attribute it solely to currency," Caruso said in a interview with Bloomberg Television.
J&J, whose businesses include consumer brands like Johnson's baby care and Neutrogena as well as medical devices, suffered from the stronger dollar as it makes almost half of its sales overseas. Sales of blockbuster arthritis treatment Remicade came in slightly lower than analysts anticipated last quarter. The treatment faces new competition after Pfizer Inc. introduced a so-called biosimilar, a cheaper version of the product.
Actelion Talks
The drugmaker has been in exclusive talks with Actelion for weeks. While the two companies tentatively agreed on a price, people with knowledge of the matter said earlier this month that the discussions continued on valuing a new unit to that would house Actelion's research and development assets. Caruso said the talks are ongoing, declining to comment specifically on the deal.
J&J is the first big U.S. drugmaker to report earnings since Donald Trump was sworn in as president Friday, after surprisingly attacking the industry this month on high drug prices and accusing pharmaceutical companies of "getting away with murder." J&J Chief Executive Officer Alex Gorsky was among a group of top CEOs from various industries who met Monday with Trump to talk about manufacturing jobs and regulations.
The meeting was "very productive," Caruso said, with discussions focused on trade, taxes and jobs in the U.S.
In a phone interview, Caruso said the diabetes devices being explored strategically have been hit by "significant" price declines for several years in the market and it's difficult to fund future innovation.  
Trump Administration
J&J needs to spend more time with the Trump administration explaining the company and industry's innovation and how their help to reduce overall health-care costs, Caruso said.
"These decisions shouldn't be made simply on a basis of a few bad actors in the industry," he said. "It needs to be broader discussion, and we think that the administration and Congress, where all the action happens, obviously in the committees, that they'll be open to that."
Trump has also promised to repeal Obamacare, a law that expanded coverage to 20 million people in the U.S. since it was passed in 2010. The new president signed an executive order to undo the Affordable Care Act within hours of his inauguration Friday, commanding federal agencies to try to waive or delay requirements that impose economic or regulatory burdens on states, families and the health-care industry.
"We didn't see much of an impact tin our overall business," Caruso said during the television interview. "Any reduction in that coverage would not have any significant t impact on our business, although we advocate for expansion of health care for all Americans."
Other highlights from fourth-quarter results:
Sales rose 1.7 percent to $18.1 billion, compared with $18.3 billion predicted by analysts.
Net income gained 19 percent to $3.81 billion, or $1.38 a share, from $3.22 billion, or $1.15 a share a year earlier.
Remicade sales of $1.62 billion versus estimate of $1.64 billion
Stelara totaled $879 million versus estimate of $882 million.
2017 revenue forecast of $74.1 billion to $74.8 billion. Analysts anticipated $75.1 billion.
Before it's here, it's on the Bloomberg Terminal.
LEARN MORE