Etihad CEO Hogan to Go as It Battles Losses at European Partners
By and
Australian who led investment spree will leave in second half

Gulf carrier mulls equity-alliance strategy as new head sought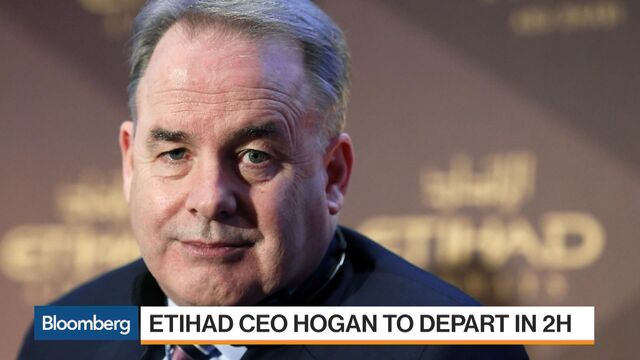 Etihad Airways announced the exit of long-time chief executive officer James Hogan and will review the web of holdings he created in other airlines as the Persian Gulf company struggles with mounting losses from investments in Air Berlin Plc and Alitalia SpA.
The 60-year-old Australian will leave in the second half as Etihad reviews its own operations and the future direction of Hogan's so-called equity alliance, which has seen the Abu Dhabi-based carrier take minority stakes in a variety of smaller and often ailing airlines across Europe and the Asia-Pacific.

"We must ensure that the airline is the right size and the right shape," Etihad Aviation Group Chairman Mohamed Mubarak Fadhel Al Mazrouei said in a statement Tuesday. "We must progress and adjust our airline equity partnerships even as we remain committed to the strategy."
Hogan took the helm at Etihad in 2006 and has transformed the airline from a local operator with 22 planes into a global force boasting a 122-strong fleet, 178 orders and 26,000 employees. A campaign to win recognition for the company as one of aviation's elite brands bore fruit last year, when it became one of only nine carriers to be awarded five stars by ratings firm Sktrax, aided by the ultra-luxurious Residence suites on its Airbus Group SE superjumbos.
Critical Point
At the same time, Hogan bought stakes in carriers including India's Jet Airways and Virgin Australia in a bid to divert more passengers through Abu Dhabi and catch up with larger and longer-established Gulf rivals Emirates of Dubai and Qatar Airways. While most of those investments have begun to show a profit and swelled the wider group to 120 million passengers, compared with 18.5 million at Etihad alone, Air Berlin and Alitalia have continued to bleed cash, with their situation approaching a critical point in the past couple of months.
The German company, in which Etihad has a 29.9 percent stake, has suffered record losses in each of the past two years and will split into three to survive, with part of the fleet to operate on behalf of Deutsche Lufthansa AG and other aircraft transferring to an Austrian venture with TUI AG. The Hanover-based tour operator said its negotiations are unaffected by Hogan's departure.
Rome-based Alitalia, the Italian flag carrier 49 percent owned by Etihad, has failed to stem losses after a series of restructuring efforts and is now facing another overhaul that could include thousands of job cuts. Etihad's bid to revive the two airlines has been constrained by European Union rules that cap outside ownership at less than 50 percent, limiting its degree of control.
Investment Company
EasyJet Plc CEO Carolyn McCall said Tuesday on an earnings call that Europe's second-biggest discount carrier will watch the situation "with interest." The U.K. airline is a leading competitor for Alitalia, which fended off its challenge at Rome's main Fiumicino airport in 2015, and has singled out Germany as a major growth market.
Chief Financial Officer James Rigney will also quit Etihad to join Hogan at an investment company located outside the United Arab Emirates and not linked to the airline or its affiliates. A global search for a new CEO and CFO is underway, according to the company. Peter Baumgartner, who has run the main airline operation since Hogan became group chief in May, and Bruno Matheu, CEO for the equity partnership, are among leading internal figures.
Etihad's strategy review could push it further in the direction of one-time arch rival Lufthansa, with which it announced a code-share deal covering four routes in December following the Air Berlin lease agreement. Both parties have said that they may deepen ties further, though Hogan said last week in Dublin that Etihad had no plans to purchase a stake in its European counterpart.
Oil Pressure
Etihad previously counted Air France-KLM Group as an ally following a code-share deal in 2012. While the pair said the agreement could lead to a larger strategic accord, that never transpired, and Qatar Air, the Gulf No. 2 after Emirates, has instead led the way in partnering with a European major, purchasing a 20 percent stake in British Airways owner IAG.
Like other Gulf operators, Etihad has also struggled in the past year as the lower oil price clips demand for premium travel in the Middle East and stuttering European economies and a spate of terror attacks hurt mass-market demand. Al Mazrouei said in his statement that the company continues to face a "challenging market."
The carrier may also encounter a tougher time expanding in the U.S. as President Donald Trump takes office vowing to protect American jobs. Delta Air Lines Inc., American Airlines Group Inc. and United Continental Holdings Inc. previously urged the federal government to review an open-skies treaty with the UAE and Qatar, alleging that Gulf rivals unfairly benefited from state aid.
— With assistance by Benjamin D Katz
Before it's here, it's on the Bloomberg Terminal.
LEARN MORE