Dollar Rebounds as Treasury Yields Rise; CAD Gains, Yen Falls
By
Pipeline news lifts Canadian dollar, sterling rises off low

Focus may shift back to fundamentals as macro events pass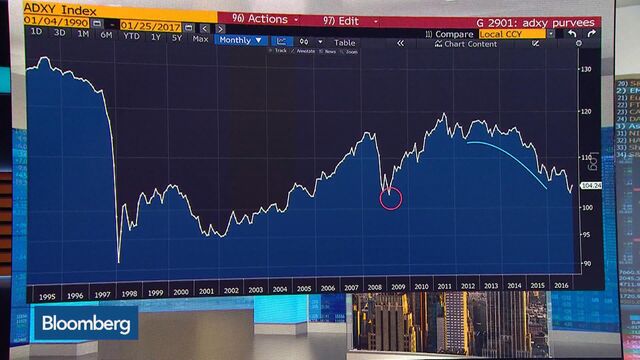 The Canadian dollar and the British pound rose in U.S. trading Tuesday while the dollar gained against the Japanese yen as traders shifted positions to cope with fresh drivers now that the macro cues of the Trump inauguration and the court decision on Brexit have passed.
The Canadian dollar gained after the Trump administration said it would advance construction of the Keystone and Dakota pipelines. The pound reversed a morning drop after Brexit minister David Davis affirmed there will be no second referendum after the U.K. Supreme Court ruled Parliament must hold a vote on the Brexit process. The yen dropped as the dollar gained some lift from rising U.S. Treasury yields and as U.S. stocks rose to their highs for the day.

Focus is now likely to shift back to economic fundamentals and interest rate differentials that may ultimately support the dollar, said two traders in London who asked not to be identified because they are not authorized to speak publicly. While economic growth in the euro area, Japan and the U.S. is seen as improving, rate differentials may give the dollar the upper hand until other factors come into play, the traders said.
Still, headline risk remains elevated as the Trump presidency announces abrupt policy shifts via tweets or other means, another trader said.
The Bloomberg Dollar Index was trading up ~0.1%, near the daily high, after earlier dropping as much as 0.3%
USD/JPY rose to a fresh high 113.89 in afternoon trading, tracking gains in Treasury yields; overnight the dollar fell to a low at 112.53 before strong bids under 112.50 cushioned the drop; the dollar gain was slowed by offers ~113.75 and further supply is expected around 114.15
GBP/USD rose back above 1.2500 after dropping to a low of 1.2419 in choppy trading following the U.K. court decision; GBP is likely to find stop-loss buy orders above 1.2550 and bids below 1.2380, two traders in London said
USD/CAD trading -0.6% at ~1.3154 vs 1.3106 fresh low in the session after stop-loss sell orders were tripped under 1.3190, traders in Toronto said; CAD gains today may have been exacerbated by unwind of stale shorts set last week after BOC's Poloz signaled a rate cut remains a possibility if economic growth remains sluggish
Before it's here, it's on the Bloomberg Terminal.
LEARN MORE