An Intesa Offer for Generali Unlikely to Succeed, Analysts Say
By and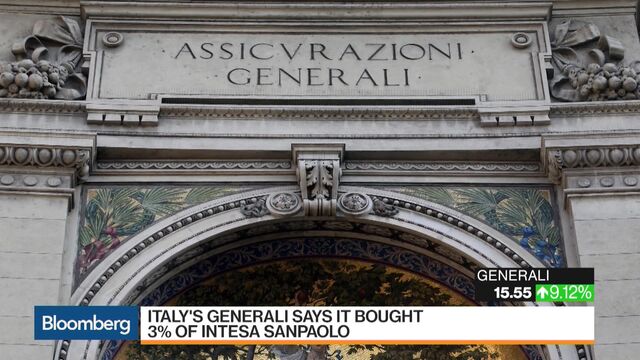 An offer by lender Intesa Sanpaolo SpA for Assicurazioni Generali SpA, Italy's largest insurer, is unlikely to succeed because of competition concerns and the complexity of such a deal, according to analysts.
Generali shares rose 7 percent on Monday on takeover speculation before the company bought a stake in Intesa, Italy's second-largest bank. The stock boost itself makes a possible deal less likely, Citigroup Inc. analysts said in a note. The company was up a further 8.4 percent at 9:35 a.m in Milan on Tuesday.
"We expect any continued M&A speculation to put upwards pressure on Generali's share price," Azzurra Guelfi, Darshan Mistry and Borja Ramirez Segura, wrote in the note. "Whilst Generali was trading at a significant discount to its peers pre-Italian referendum, the gap has now closed, lowering the risk of an opportunistic bid."
Intesa is considering an all-share bid for Generali, la Repubblica reported on Tuesday. Top managers of Generali and its biggest investor, Mediobanca SpA, decided to buy the 3 percent Intesa stake to prevent a bid from Intesa and German insurer Allianz SE following speculation on Monday that an offer might be made, people with knowledge of the matter said. Generali was protecting itself even though a buyout probably wouldn't succeed anyway, according to analysts.
"A joint takeover by Allianz and Intesa is unlikely, due to antitrust issues and the high complexity of the deal," Andreas Schaefer an analyst at Bankhaus Lampe, wrote in a report. While Allianz might be interested in Generali's operations in places including Switzerland, Spain central & eastern Europe, the Italian company's German operations would probably add no value to Allianz beyond the distribution network, the analyst said.
Italy's cross-shareholding regulations have been used in the past by other companies, including Capitalia to protect against hostile bids, Fabrizio Spagna, managing director at Axia Financial Research in Padua, Italy, said by phone.
"This is the classic defensive move to avoid a hostile takeover from Intesa, making it harder for the latter to buy shares in Generali," he said.
— With assistance by Ross Larsen
Before it's here, it's on the Bloomberg Terminal.
LEARN MORE