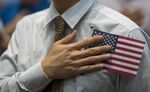 As a candidate, Donald Trump promised immigration reforms that would "serve the best interests of America and its workers." Now that he's in office, he might want to take a look at economic analyses as he decides what those policies should look like. 

The first item in today's roundup focused on America's modern immigration situation – and finds that new entrants are probably competing with a different set of workers than their predecessors might have. We also look at how Brexit could change trade, how fake news affected the 2016 election and how financial inclusion differs in the euro area and the U.S.

Check this column every Tuesday for the latest in pertinent economic research.  
A snapshot of new American immigration
Immigrants entering the U.S. after 2010 look a lot different than their predecessors, based on a new analysis by Indeed Chief Economist Jed Kolko. Starting with origins, there's been a major shift away from Hispanic immigration. Looking at all immigrants in the U.S., half were born in Latin America, with 27 percent from Mexico. By contrast, only one-third of recent immigrants were born in Latin America, and 12 percent came from Mexico. These days, 45 percent are Asian. 

Even more important, the job market makeup of new entrants has changed. Among those older than 25 living in the U.S. in 2015, 48 percent of post-2010 arrivals have a bachelor's degree, up from 27 percent for the group who arrived in 2005 or earlier. Likewise, they're working in higher-skilled jobs: of the top 10 individual occupations with the highest share of recent immigrants, most require a degree, whereas none of the top 10 for immigrants overall demand that much education. Such changes in who immigrants are and what they do "will affect the politics of immigration in the new Trump administration," Kolko writes. 

How the Jobs That Immigrants Do Are Changing
Published Jan. 19, 2017
Available at the Indeed Blog
Bye-bye, EU. Hello, lower trade. 
Crossing the Atlantic, World Bank researchers have taken a look at how U.K. trade will fare in the wake of Brexit. 

In a scenario where Britain and the EU establish a relationship similar to the EU's ties with Norway – more on what that looks like here – value-added U.K.‐EU trade would decline about 6 percent, they estimate. In a scenario where there's no agreement, the hit could be closer to 28 percent. "As it takes time for trade flows to respond to changes in trade costs, we expect the impact in the short‐run to be smaller than in the longer term," the researchers write.

Deep Integration and UK-EU Trade Relations
Published January 2017
Available at the World Bank website
Fake news didn't swing the 2016 election
A lot of ink has been spilled decrying the fake news that dominated the internet during the 2016 U.S. election, but it probably didn't actually change the outcome, New York University economist Hunt Allcott and Stanford University economist Matthew Gentzkow find in a recent paper. Although known-to-be-false stories supporting Donald Trump were shared 30 million times on social media and pro-Clinton fake news garnered 7.6 million shares, the average American saw and remembered just 0.92 pro-Trump fake news stories and 0.23 pro-Clinton fake news stories. What's more, just over half of those who remembered seeing a fake news story believed it. 

The paper, which drew on web browsing data, fact-checking websites, and a 1,200 person post-election online survey conducted the week of Nov. 28, concluded that "for fake news to have changed the outcome of the election, a single fake news story would need to have convinced about 0.7 percent of Clinton voters and non-voters who saw it to shift their votes to Trump, a persuasion rate equivalent to seeing 36 television campaign ads." 

Social Media and Fake News in the 2016 Election
Available on the NBER website
Published January 2017 
The financial inclusion boost
About 3.6 percent of households in the euro area and 7.5 percent in the United States don't have bank accounts or similar services with financial institutions, new European Central Bank research finds, and those households have less wealth than their banked counterparts. The gap totals around 74,000 euros ($79,550) in the euro area and $42,000 in the U.S. That disparity comes in part because banked households are more likely to accumulate wealth through home-ownership. 

Unlike prior researchers, the ECB economists find no evidence that free accounts for low-income households help much. By contrast, requiring bank accounts to receive government transfers seems to have potential to get more households access to banks. 
Financial inclusion: what's it worth?
Published January 2017
Available at the ECB website
Before it's here, it's on the Bloomberg Terminal.
LEARN MORE