markets
'Australia First' Policy Embraces Trade, Treasurer Morrison Says
By
Still much to be gained from TPP even after Trump withdraws

Morrison says Australia growth performance will pick up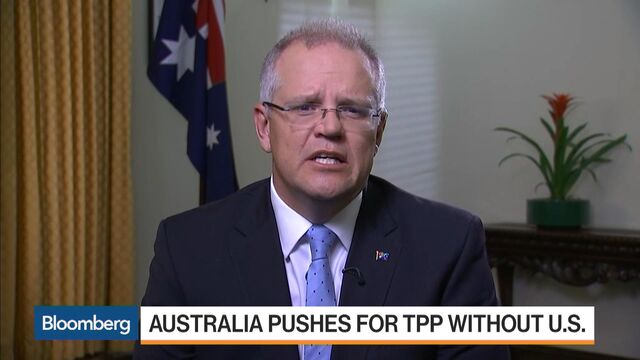 Australia is still committed to working on trade relationships, with a focus on Asia, even after the U.S. pulled out of the Trans-Pacific Partnership deal, Australian Treasurer Scott Morrison said.
"Australia's a trading nation, an 'Australia first' policy does embrace trade and foreign investment and all of these things," Morrison said in an interview from London with Bloomberg Television's David Gura on Tuesday. "And so our economic interests are very much aligned with that approach."
U.S. President Donald Trump dealt a blow to Australia's trade ambitions this week by withdrawing from the TPP, a 12-country deal that sought to boost trade between the U.S. and Pacific Rim nations. Australia is interested in pressing ahead with that agreement, said Morrison, while also reaching out to the U.K. about a trade pact and seeking stronger ties with the European Union.
Trump's order on Monday withdrawing from the TPP "was not unexpected, but that doesn't mean that you simply walk away from these things," Morrison said. "There's still a lot that can be gained and we intend to continue to pursue that."
Australian Prime Minister Malcolm Turnbull said Tuesday he discussed the deal the previous day with Japanese counterpart Shinzo Abe, and held talks with the leaders of New Zealand and Singapore. Steven Ciobo, Australia's trade minister, said a TPP without the U.S. was "very much a live option."
Watch the Scott Morrison interview here
Morrison said that "nobody wins" from trade wars, referring to recent rhetoric from Trump that's raised the specter of trade tensions between the U.S. and China. The U.S. is the largest investor Down Under, while China is Australia's biggest trading partner.
"We expect cooler heads to prevail on these sorts of things and ultimately people will hopefully take a very pragmatic approach," he said.
Australia's economy shrank 0.5 percent in the third quarter, the first contraction in more than five years, surprising both policy makers and economists. On top of that, the labor market is showing mixed signals as improved hiring masks high levels of underemployment. That's resulted in record-low wage growth and suggests a slow path for inflation to return to target.
Morrison said that data coming in for the December quarter will look brighter, and that the economy's contraction had been a "surprise result."
"When you look at our forecasts, over the short to medium term, then we expect to see our growth performance pick up where it left off," said Morrison.
— With assistance by David Gura
Before it's here, it's on the Bloomberg Terminal.
LEARN MORE