Trump's Taxes May Stay Hidden, No Matter What Senior Aide Says
By
Conway clarifies reason for not releasing returns is audit

Audit likely to continue since IRS reviews president annually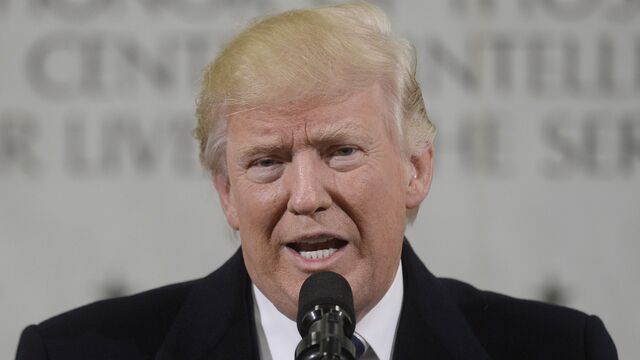 A senior adviser to President Donald Trump sought to clarify her remarks about the president's tax returns on Monday in a statement that leaves open the possibility that Trump will never release them.
Kellyanne Conway, who managed Trump's successful election campaign, said unconditionally on Sunday that Trump would not make his tax returns public. Then, on Monday, she posted on Twitter that Trump is "under audit and will not release until that is completed." Her Monday statement echoed the justification Trump has offered since February 2016 for not releasing his tax documents.
In practical terms, that may mean the public never sees Trump's returns while he's in office. That's because the Internal Revenue Service has administrative procedures that make the president's tax returns subject to mandatory examinations every year. If that procedure remains in place, Trump might remain under audit throughout his presidency.
A White House spokesman didn't immediately return a message seeking comment. The IRS press office didn't immediately respond to an e-mail asking if the procedure will continue going forward.
265,000 Signatures
Conway's comments to ABC News on Sunday came in response to questions about a public petition posted on the White House's website calling for Trump to "immediately release" his full tax returns. Support for the petition has been mounting, with more than 265,000 signatures as of Monday afternoon, three days after being created. Whenever a petition hits 100,000 signatures within 30 days, it's supposed to trigger an official response from the administration within 60 days, according to the White House petitions website.
"The White House response is that he's not going to release his tax returns. We litigated this all through the election. People didn't care. They voted for him," Conway said on ABC's This Week, adding that Americans are more concerned about what their tax returns will look like.
Trump has departed from roughly 40 years of tradition for presidential candidates by keeping his returns secret, saying his lawyers advised him not to release returns while he's under audit. He said last February that he had been under continuous audit for the past 12 years; his lawyers released an unusual letter in March that said the years 2009 forward remained under review. There's no law or rule that prevents people under audit from making their returns public.
The president has the power to make two political appointments at the IRS -- the commissioner and chief counsel. Current IRS Commissioner John Koskinen, whose term expires in November 2017, has said he'd resign immediately if the next president asks him to.
William Wilkins, who was chief counsel, resigned effective Jan. 20 and was replaced by William Paul as acting chief counsel. Paul had previously been one of the deputy chief counsels at the agency. Federal law prohibits any executive-branch officer from requesting that the IRS begin or end any investigations of a particular taxpayer.

— With assistance by Lynnley Browning
Before it's here, it's on the Bloomberg Terminal.
LEARN MORE