Trump Era May Force Europe Into Deciding What Role It Wants
By and
European leaders pledged unity under attack from Trump

U.S. criticism pushing EU to address long-standing issues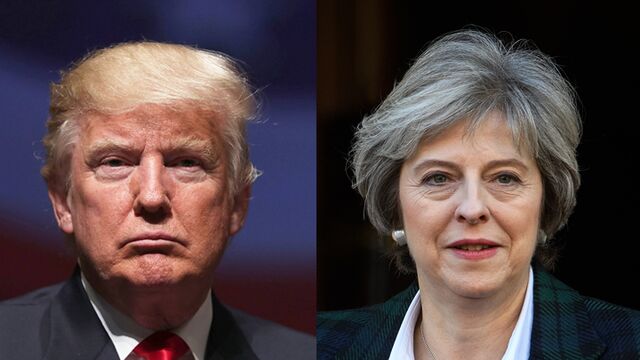 Donald Trump's arrival in the White House means it may, finally, be decision time for Europe.
The new U.S. president's barrage of criticism in the run up to his inauguration last week prompted pledges to stick together and revive support for the European Union. Germany's Angela Merkel vowed to maintain unity through continuous dialogue with other members. Mark Rutte of the Netherlands called for a fresh focus on the economy, while European Commission Vice President Frans Timmermans warned critics not to underestimate the bloc's determination.
The test will be whether their renewed commitment is enough to address flaws in the EU's structure that have been glossed over in recent years. Since the high water mark of integration brought the single currency and expansion in the east, the EU has fudged questions such as how far to pool its taxes and debts, how much to spend on defense and whether to adopt a common foreign policy toward neighbors such as Russia and Libya.
With the U.K.'s decision to turn its back on the EU buoying populist campaigns across the continent, the bloc's defenders already face an urgent dilemma over how close a union they're prepared to forge in response. Trump's heckling from the sidelines piles on more pressure to adapt or see doubts about the project's long-term viability increase.
"Trump's impact is that Europe has to decide very quickly what kind of Europe it wants to be," Guntram Wolff, director of the Brussels-based Bruegel Institute, said in a phone interview. "This is a big problem because we have to react now and there's a lot of denial."
Trump's Critique
Trump rocked the EU by branding it a vehicle for German domination in an interview published in two European newspapers Jan. 15. He said other countries would follow the U.K. in leaving and called the North Atlantic Treaty Organization, the guarantor of U.S. military backing for Europe, "obsolete" -- all while making overtures to Russia.
As he addressed the nation from the steps of the Capitol on Friday, he said it's time to put "only America first" when dealing with other nations. He portrayed the U.S., the world's biggest economy and its dominant military power, as a nation ravaged by the consequences of weak borders, unbalanced alliances and bad trade deals.
Despite the hyperbole, there's an element of truth in the criticism from Trump, who will have a chance to voice it directly to British Prime Minister Theresa May in Washington on Friday.
Politicians and voters in southern Europe chafed at the demands of Germany and its allies during the euro-area crisis, while the leaders of the world's biggest economic bloc are conscious that they've piggy-backed on U.S. military might for decades.

A blueprint for integration drawn up by commission chief Jean-Claude Juncker, EU President Donald Tusk and European Central Bank head Mario Draghi is languishing in a drawer in Brussels, while a post-Brexit initiative to step up defense cooperation has so far amounted to little more than vague pledges.
End of the Dream
In Davos, Switzerland, last week, Dutch Prime Minister Rutte declared that the EU founders' dream of "ever closer union" was dead and buried and said today's leaders need to focus instead on getting the economy working, highlighting one of the union's persistent fissures .
"I will fight for a European union which is going back to its core, in which member states implement what they have promised to do like with the stability and growth pact," he said in an interview with Bloomberg Television's Erik Schatzker. "So yes, reforms in the Netherlands, but also in France, also in Italy."
Both Rutte and Jens Stoltenberg, the NATO secretary general, said EU nations must increase their defense spending. Trump on Friday complained that for many decades the U.S. has "subsidized the armies of other countries."

Europe's problems are coming to a head as governments in the Netherlands, France and Germany -- three of the EU's six founding members -- face elections in which voters who feel they've been left behind or neglected by the establishment consider abandoning the EU to pursue narrower, nationalist interests. While Trump and the Brexit campaign harnessed that discontent, Europe's leaders are struggling to articulate how they will turn things around for their voters.
"We are lacking that vision," Italian Finance Minister Pier Carlo Padoan said during a panel discussion in Davos last week. "That is the challenge that Trump is posing and that Brexit is posing. They have a vision, we don't."
What Now?
Rather than set out a grand plan, Europe's most powerful figure, the German Chancellor Merkel, is defending the pragmatic, incremental approach to the challenge, which saw her stitch together responses to the Greek debt crisis, start the creation of a banking union and stand up to Russian aggression in Ukraine.
"The be-all and end-all is that Europe doesn't let itself be divided -- and we will ensure this through very intensive contacts," she told a news conference in Berlin Jan. 18. "Let's wait for the inauguration on Friday, after that things will sort themselves out."
Investors who've backed Merkel in the past have made big gains. The Bloomberg Greece Sovereign Bond Index has more than doubled since the chancellor brokered a deal in July 2015 to keep the euro's weakest member inside the currency union.

But German voters may not give Merkel the same leeway to broker backroom tradeoffs with other member states that they did in the past.
The German leader has said her fight for re-election this fall will be the toughest of her career. She took a hammering last year for opening the borders to almost a million migrants -- a move Trump labeled a "catastrophic mistake" -- and with the anti-euro, EU-skeptic Alternative for Germany party tapping into voter anger at the influx, even Merkel's allies are pushing her to focus on domestic needs rather than Europe's problems.
Draghi and Schaeuble
That makes it harder to envisage Germans accepting the compromises required on government financing to complete the continent's economic union, especially with Finance Minister Wolfgang Schaeuble fueling resentment at the extraordinary monetary policy unleashed by central bank chief Mario Draghi to keep the currency union together.
As prices in Germany accelerate, still a national obsession after the hyper inflation of the 1920s, Schaeuble is signaling increasing unease about Draghi's efforts to boost price gains across the euro area as a whole.
"Can the middle be cohesive enough so that the extremes are not in control?" Ray Dalio, the billionaire founder of hedge fund Bridgewater Associates, asked last week, sitting alongside Padoan in Davos. "Can a Mario Draghi and a Schaeuble come together?"
With anti-European parties already in power in some eastern members, the consensus on Russia sanctions faltering, and governments flouting EU budget rules when it suits them, the signs so far are that the center is struggling.
— With assistance by Flavia Rotondi, and Chiara Vasarri
Before it's here, it's on the Bloomberg Terminal.
LEARN MORE