Trump Declares Federal Hiring Freeze and Renews Abortion Ban
By and
NGOs taking federal money prohibited from providing abortions

Hiring freeze doesn't apply to 'national security' positions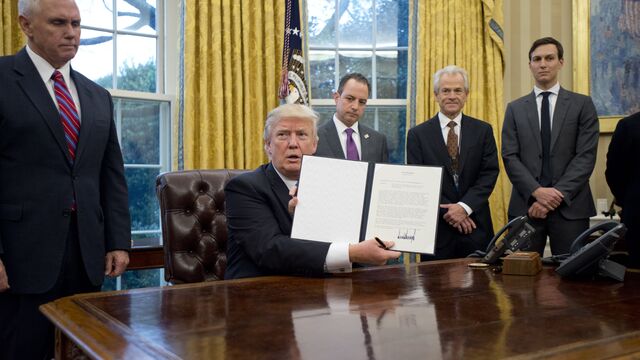 President Donald Trump signed executive memorandums to impose a hiring freeze across the U.S. government, except for national security, and renew an intermittent federal policy that forbids international nonprofits receiving federal money from providing abortion services.
White House Press Secretary Sean Spicer said that federal agencies would not be allowed to fill vacancies or hire new employees except for positions related to "national security." Such jobs are not necessarily restricted to the Pentagon or intelligence agencies.
"There's been, frankly, to some degree a lack of respect for taxpayer dollars in this town for a long time," Spicer said. He said Trump's memorandum would halt the "dramatic expansion of the federal workforce in recent years."
However, federal employment has been mostly flat over the last eight years. There were 2.78 million civilian federal workers, including the postal service, at the end of December 2008, Bureau of Labor Statistics figures show. At the end of last year, the number stood at 2.8 million.
Most of the rise in employment at federal civilian agencies over the period comes from a 101,000 increase at the Department of Veterans Affairs, which provides services to military veterans, according to the Office of Management and Budget. Casualties from the Iraq and Afghanistan wars have increased demand for Veterans services and the department has been criticized for an inadequate response.
As a share of overall U.S. employment, the federal civilian workforce has been shrinking in recent years and was 1.9 percent as of December.

The abortion rule is known as the Mexico City policy, and it dates to Ronald Reagan's presidency. It was rescinded by former President Bill Clinton, a Democrat, restored under former President George W. Bush, a Republican, and then rescinded again under former President Barack Obama, a Democrat, according to the Population Research Institute.
"It's no secret he has made it very clear he's a pro-life president," Spicer said of Trump.
Senator Jean Shaheen, a New Hampshire Democrat and supporter of abortion rights, said on Monday that she would introduce legislation permanently ending the policy, which she called the "Global Gag Rule". The bill is unlikely to advance with Republicans controlling both chambers of Congress.
Before it's here, it's on the Bloomberg Terminal.
LEARN MORE