Republican Senators Appeal to Trump, Democrats in Obamacare Bill
By
Cassidy, Collins say their bill embraces Trump's vision

States would be allowed to keep Obamacare if they like it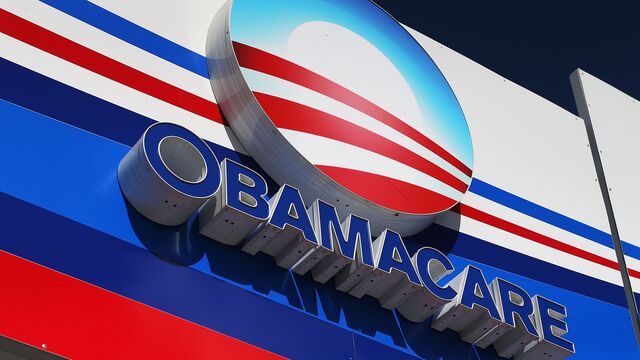 Seeking to bridge the Obamacare divide between Democrats and President Donald Trump, four Republican senators led by Bill Cassidy of Louisiana and Susan Collins of Maine offered a plan Monday to replace the health-care law.
The quartet's proposal could be crucial in the Senate, which Republicans control 52-48. Republicans can't pass anything without Cassidy, Collins and their co-sponsors Johnny Isakson of Georgia and Shelley Moore Capito of West Virginia. A full replacement would need 60 votes, requiring help from Democrats.
Republicans have said for years that they want to repeal and replace the 2010 Affordable Care Act. At a news conference at the Capitol, Cassidy said the group's plan is designed to do everything Trump has said he wants.
"He's been very consistent. He wants a replacement plan. He wants to take care of pre-existing conditions. He wants to make sure we have an equal amount of people covered. And he doesn't want mandates," Cassidy said.
The bill relies on Obamacare's taxes to offer states a new option that replaces mandates to buy insurance with automatic enrollment in new plans with more choices. Cassidy said that option could lower premiums and cover far more people.
Why Repealing Obamacare Is Harder Than It Sounds: QuickTake Q&A
Senate Democratic leader Chuck Schumer of New York immediately rejected the plan in a statement that called it "an empty facade that would create chaos – not care – for millions of Americans." He said Republicans should work with Democrats to improve Obamacare instead of repealing it.
The four Republicans' proposal would let states keep Obamacare if they want in an attempt to appeal to Democrats worried about repeal. It also would let states forgo federal assistance for expanded health coverage.
But everywhere, Collins said, consumers would keep the Affordable Care Act's insurance protections, including the ban on denying coverage to people with pre-existing conditions, the ban on annual or lifetime caps on coverage, and the ability for young people to stay on their parents' plans until they turn 26.
The four Republicans can expect resistance from more-conservative lawmakers in their party, given the push by many to repeal all of Obamacare's taxes, which would rob the quartet's plan of funds for a robust replacement. Cassidy said the taxes could be replaced later this year in a tax overhaul, but ultimately a replacement will "need revenue."
'Confusing' Order
Collins said the group is open to changes, but Congress will fail if it doesn't start providing specifics of what a new health plan would look like. Executive orders are not enough, Collins said, adding that the order Trump issued Friday, which requires federal agencies to waive or delay some Obamacare requirements, was "confusing."
"Congress should set the rules and write the laws," said the moderate Maine Republican.
Under their bill, states would have the option of tapping funds now used to expand Medicaid to pay for new federally funded health-savings accounts tied to catastrophic coverage and prescription drug benefits.
Patients would have more incentive to find less expensive care to save money and potentially lead to better outcomes, Cassidy said. That would help people such as his vision of a Trump voter on an Obamacare plan who can't afford a $6,000 deductible, he said.
"Anecdotally and statistically, when people are engaged in the cost of their care, their care improves and the cost goes down," Cassidy said.
Before it's here, it's on the Bloomberg Terminal.
LEARN MORE