Le Pen Risk Flashes in Tightest Yield Spread to Spain Since 2010
By and
France's bond market starting to show greater election risks

Allianz GI says watch for impact of Le Pen's populist message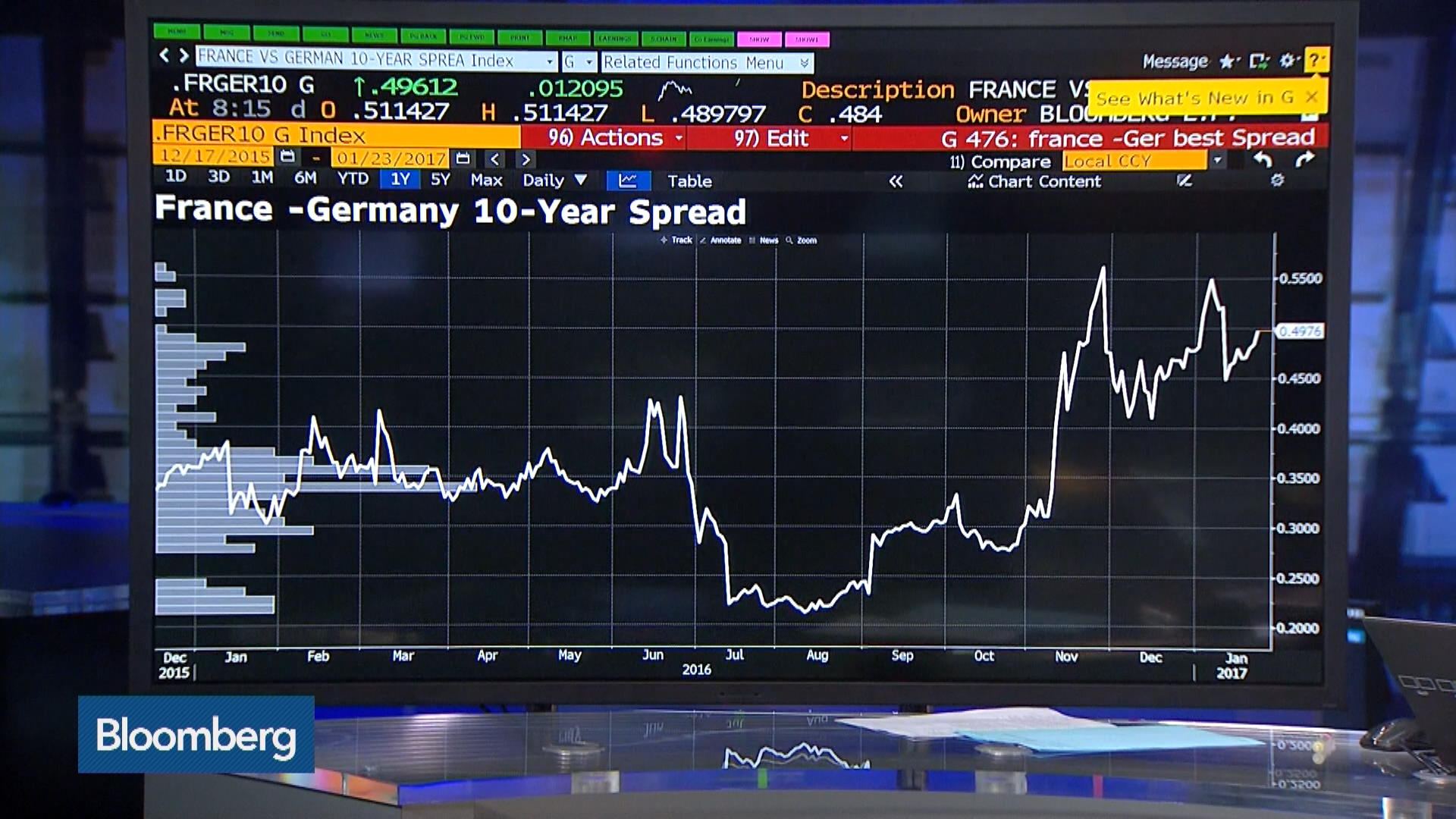 The 'Frexit' barometer is flickering into life.
With National Front leader Marine Le Pen ahead in a poll on the first round of France's presidential election, the country's government bonds are starting to lose their cachet as some of the safest in the euro area. The yield on 10-year French securities is the highest relative to Spanish debt since April 2010 and the spread between French and German yields is near the widest level in more than two years.

A victory for Le Pen on April 23 would set up a run-off vote in May, raising the prospect that an open critic of the euro could become the next president of the region's second-biggest economy. While anything like an exit from the currency bloc and associated redenomination risks are far from priced in, and quirks of the bond supply calendar may also be weighing on demand for French bonds, the yield moves nonetheless show signs of investor angst.
Allianz Global Investors global strategist Neil Dwane expects Le Pen to pitch a "France First" agenda in the same vein as U.S. President Donald Trump's "America First" approach, and advises investors to watch the impact of such a message. "What we have to watch for is whether she does make that appeal successful because it actually could give her better credibility," he said in a Bloomberg Television interview on Monday.
To read the Markets Live Blog where these charts first appeared, click here.
Trump's victory, as well as the U.K. vote in favor of Brexit, highlighted the rise of populist policies among the global electorate. While bond purchases by the European Central Bank under its quantitative easing plan have insulated the region's securities from country-specific risks in the past two years, that umbrella may start to become more permeable as the central bank moves closer to tapering its stimulus program.
The open interest -- the number of active bets -- on French bonds is at a record in the futures market. It has more than doubled in the past four months, indicating a jump in investor interest as traders brace for the presidential election.
Before it's here, it's on the Bloomberg Terminal.
LEARN MORE