Generali Jumps on Report Intesa Plans to Mount Takeover Bid
By
Generali said to buy Intesa stake as defense; Intesa slides

Allianz may buy assets to let Intesa bid succeed: Repubblica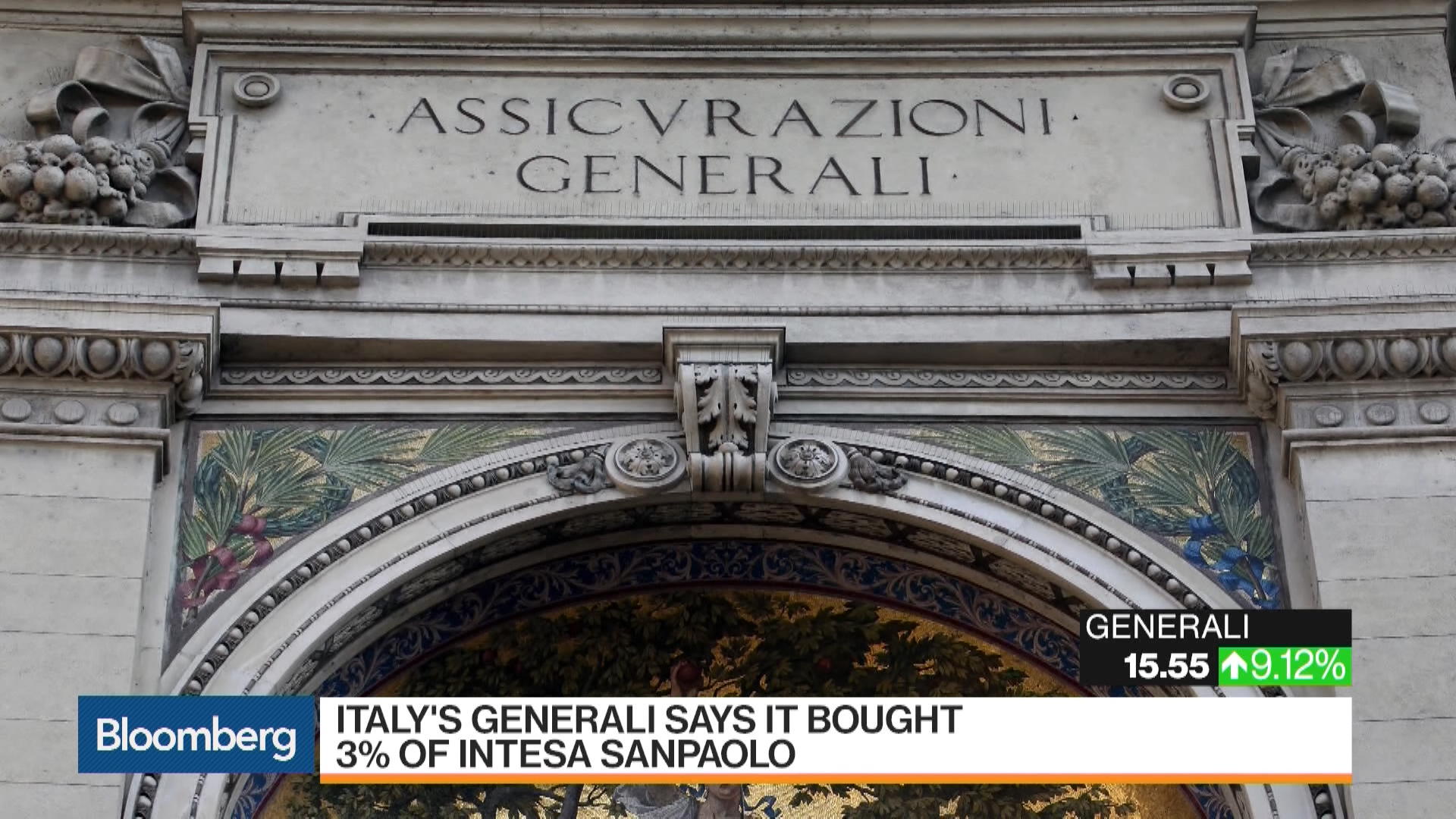 Assicurazioni Generali SpA jumped the most since 2010 after a newspaper reported Intesa Sanpaolo SpA is considering an all-stock offer for Italy's biggest insurer.
A transaction may involve Germany's Allianz SE, which could buy some of Generali's assets to allow Intesa's offer to comply with competition rules, la Repubblica reported on Tuesday. Generali's own purchase of 3 percent of Intesa, announced Monday, was a defensive measure, people with knowledge of the matter said.
Intesa shares slid the most in more than a month as analysts questioned why Italy's second-largest bank would combine with Trieste-based Generali, which has a market value of about 24 billion euros ($25.8 billion), and said any deal would be complex and face antitrust issues. Fabrizio Bernardi, an analyst at Fidentiis Equities, said Allianz and Intesa may have decided to move in tandem on Generali to block a possible joint offer from France's Axa SA and Mediobanca SpA.
Intesa has scheduled a board meeting for Friday to discuss its 2017 budget, which is the only topic on the agenda, a bank official said, declining to comment further. Generali and Allianz declined to comment.
Generali's stock jumped as much as 11 percent in Milan trading and closed up 8.2 percent. Intesa fell 4.4 percent, making it the worst performer in Italy's 40-member benchmark FTSE MIB Index.
Cross-Shareholdings
Under Italian takeover law regarding cross-shareholdings, if Intesa buys shares in Generali, its voting rights would then be frozen at 3 percent, regardless of the size of the stake. The only way around the limit would be to make an offer for at least 60 percent of Generali, which would cost about 14.5 billion euros based on the current share price.
Allianz may be interested in Generali's operations in Switzerland, Spain and eastern Europe, according to analysts including Andreas Schaefer at Bankhaus Lampe, who said they were nevertheless skeptical of an Intesa-Allianz bid because of the complexity of such a deal and competition concerns. An "opportunistic" offer is now less likely given Generali's share surge, Citigroup Inc. analysts said in a note Tuesday.
Mediobanca Role
Mediobanca, whose investment bank competes in Italy with Intesa's Banca IMI unit, is Generali's biggest shareholder with a 13 percent stake. UniCredit SpA, Intesa's banking rival in turn owns 8.6 percent of Mediobanca.
In 2013 Mediobanca announced that it would cut its Generali stake by about 3 percent in the insurer to focus on its core business. CEO Alberto Nagel, who has sold only a 0.2 percent stake so far due to market conditions, said in November he may consider a bigger cut should opportunities materialize.
Generali has 76,000 employees and operates in more than 60 countries. Like other European insurers, it's struggling to boost profitability as investment returns fall and competition increases. Philippe Donnet, who became chief executive officer in March, is cutting costs and focusing on cash generation and the retail business to improve returns.
Donnet plans to exit less-profitable businesses to increase efficiency, improve capital allocation and mitigate risks. The company plans to generate 1 billion euros from disposals and lower operating costs by 200 million euros in its mature markets by 2019, the insurer said in November when it presented its strategic plan.
Assuming Generali's investment in Intesa is defensive, it would echo the tactics used in a previous Italian takeover battle where the lender was ultimately thwarted.
In 2006, Capitalia SpA purchased a 2 percent stake in Intesa, whose executives had told journalists they were interested in acquiring the bank. That froze Intesa's voting rights on any stake in Capitalia it acquired at 2 percent. Capitalia was eventually sold to Intesa's larger rival, UniCredit SpA.
— With assistance by Lorenzo Totaro, Tommaso Ebhardt, Francesca Cinelli, and Dan Liefgreen
Before it's here, it's on the Bloomberg Terminal.
LEARN MORE