Fillon Decries U.S. Bank Fines in European Pitch Against Trump
By
Merkel hosts French presidential front-runner at chancellery

Difference on Russia persist as German-French unity sought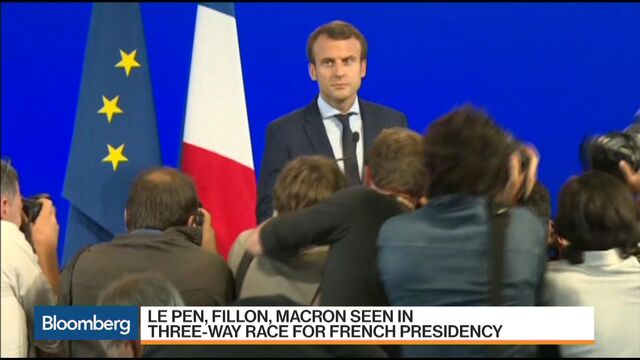 French presidential front-runner Francois Fillon denounced U.S. fines against European banks and called for improved European relations with Russia as he reached out to German Chancellor Angela Merkel to help counter President Donald Trump's "America First" stance.
Speaking after a private lunch at the chancellery in Berlin, Fillon criticized the Basel Committee on Banking Supervision's global rules as "very unfavorable to Europe" and cited U.S. penalties on German and French banks under the Obama administration as examples of American unilateralism that Europeans need to confront Trump over.
"I think there's a shared vision by France and Germany that we can't let them impose rules tailored for the U.S. and its banking system that are negative tools for Europe," Fillon told reporters on Monday.  "I told Merkel we should put all these topics on the table."
With the euro area's two biggest economies both holding elections this year, Merkel received the Republicans' candidate ahead of the French vote in April and May. While the two are from the same political family and have sought to set down markers for cooperation with the U.S. administration, the Christian Democratic chancellor and Fillon don't see eye-to-eye on range of topics, including nuances of how to deal with Russian President Vladimir Putin.
"Trump made rather aggressive comments toward Europe," Fillon said. "The consequence must be to strengthen Europe solidarity and accelerate Europe's reform" while preventing Trump and Putin from making deals "behind our backs," he said.
'Naive' Sanctions
Fillon, who polls suggest would win a second-round runoff with National Front leader Marine Le Pen, was also meeting German Finance Minister Wolfgang Schaeuble and giving a speech at a foundation close to Merkel's party. While Merkel wasn't appearing with the former prime minister in public, Fillon's reception in Berlin is a hint of Germany's preference. "We hope that Marine Le Pen will not win," Schaeuble said last week.
Fillon said Germany and France need to band together in Europe's interest to respond to a "new, extremely dangerous era" with Trump as U.S. president, according to an interview with Germany's Frankfurter Allgemeine Zeitung published Sunday. To think that Russia can be "brought to its knees" with economic sanctions is "naive," Fillon told the newspaper, arguing instead for an economic partnership and the convening of a security conference once Russia respects the Minsk peace accord for eastern Ukraine.
Germany is all in favor of good relations with Russia, but "we've had a very real-world problem for years now" with Russia's encroachment on Ukraine, Steffen Seibert, Merkel's chief spokesman, told reporters in Berlin before the talks. "Russia could bring its influence to bear much more forcefully" to end the conflict in eastern Ukraine, he said.
Fillon said he "expressed my differences" on Russia and Ukraine to Merkel and "we will work together" if he's elected.
"We know for Angela Merkel it's hard because she has had difficult experiences with Putin in the past," Bruno Le Maire, Fillon's foreign-policy adviser, told reporters separately.
Before it's here, it's on the Bloomberg Terminal.
LEARN MORE