European Stocks Slide to 3-Week Low as Trump Spurs Trade Angst
By and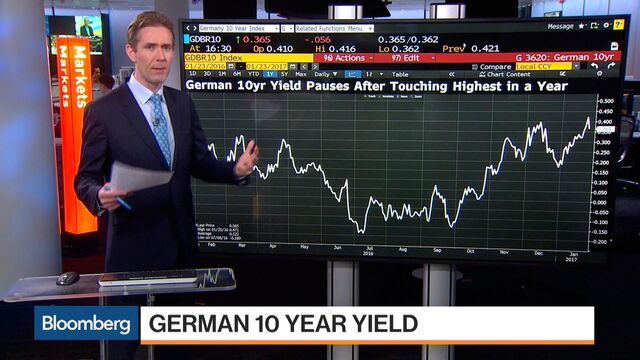 European stocks declined, while volatility surged, as Donald Trump ordered the U.S. to withdraw from the Trans-Pacific Partnership trade deal.
The Stoxx Europe 600 Index lost 0.4 percent at the close, after retreating as much as 0.7 percent. Banks and energy shares fell the most, while gains in miners tempered the benchmark's declines. Trump also prepared to sign executive orders to renegotiate the North American Free Trade Agreement, according to an official familiar with the plans.
"After a period of investor optimism around Trump comes a time of investor concern connected to his protectionism policy," Andrea Tueni, a trader at Saxo Bank, said in a telephone interview from Paris. "This puts investors in a wait-and-see mode, they might be expecting further declines."

The VStoxx Index of euro-area equity volatility surged 17 percent, the most since September. 
Banks, among the best performers in the Stoxx 600 since Trump's U.S. presidential election, were some of the biggest losers on Monday. Energy shares also tumbled, tracking oil lower.
Investors are turning more risk-averse following Trump's inaugural speech in which he struck a protectionist note. He told business leaders Monday that he would impose a "very major" border tax on companies that move jobs outside the U.S.
"The market is grabbing hold of the comments on the border tax -- those comments fit with the tone he stuck during his inaugural address, which was more protectionism than pro-growth," said Jasper Lawler, a market analyst at London Capital Group. "Markets have been gradually easing off on Trump."
The Stoxx 600 fell for a third straight day, the longest losing streak since before the U.S. election. The benchmark is losing momentum this month, following its outperformance of the S&P 500 Index in December.
Before it's here, it's on the Bloomberg Terminal.
LEARN MORE