quicktake
China Readies for World's Biggest Human Migration: QuickTake Q&A
Bloomberg News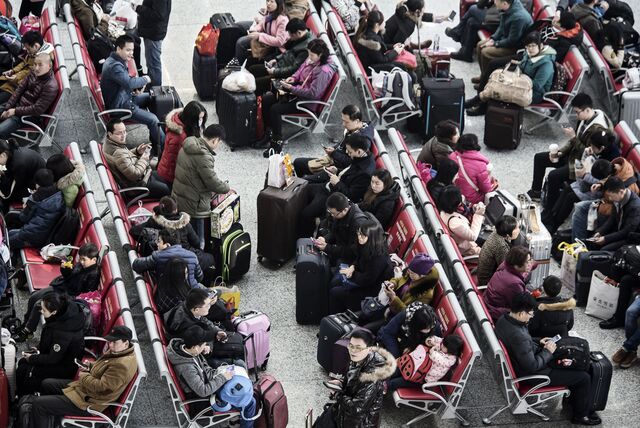 It brings much of China's economy to a halt and strains transport systems, not to mention waistlines. Chinese New Year is an annual ritual of family reunification and overindulgence. The scale of the migration is astounding: While some 49 million Americans undertake a significant journey for Thanksgiving, Chinese citizens will rack up 3 billion trips during this year's travel-fest. Best book those seats early.
1. When exactly is Chinese New Year?
Also known as the Spring Festival, Chinese New Year marks the beginning of China's lunar calendar. It's China's most important holiday, a period that's seen enshrining values like unity and family ties. Citizens get a statutory seven-day holiday beginning Chinese New Year's Eve, which is Jan. 27 this year. Traditionally, the celebrations span 16 days, from a family feast on New Year's Eve through the Lantern Festival on day 15.
2. 'Mass migration' might be understating it?

China's railways expect to host 356 million passengers during the 40-day official travel season, known as "Chunyun." (That translates as "Spring Festival Transportation" and begins 15 days before the start of Chinese New Year). Then there's the estimated 58.3 million people who will take flights, up 10 percent from 2016. In total, the government is anticipating a 2.2 percent increase to 2.98 billion journeys for the 2017 holidays, as many migrant workers seize their only chance in the year to flock from the cities back to their rural roots.
3. That's hardly the ideal season for Chunyun?
Just ask last year's pilgrims, who braved sub-zero temperatures to travel an average 255 miles (440 kilometers), according to China's Ministry of Transportation. The start of the Spring Festival coincided with the worst cold snap in China in 30 years, with blizzards in eastern and southern China delaying flights and trains. Weather forecasts call for more benign conditions this time, with the horrendous pollution that marked the start of 2017 expected to have mostly cleared.
4. Have travel plans changed much over the years?
Rising wealth has dispersed celebrations to scenic, and less chilly, venues than the wintry mainland. Among choice domestic spots are the tropical resort island of Hainan, the coastal city of Xiamen and Kunming, dubbed the "spring city" for its ever-pleasant weather. Popular international destinations include Japan, Singapore, Vietnam, Australia, South Korea and even the U.S. According to Ctrip, over 6 million Chinese will travel abroad during the seven-day holiday -- more than the population of Denmark.

5. So reserving tickets can be troublesome?
Technology has lessened the need to stand in long lines. But it can present its own problems, for those without access or others who struggle to prove they're not a web robot, as Bloomberg reported last year.
6. Who else suffers with the travel operators?
Pity the economists. Because Chinese New Year moves around on the Gregorian calendar, starting anytime from late January to mid-February, it creates distortions in year-on-year comparisons of economic data. Also, the central bank will be watching carefully as the mass withdrawal of funds before the holiday puts a strain on liquidity and travelers exchange their yuan for foreign currency.
7. Do any businesses benefit beyond the travel industry?
Alcohol sellers in China record bumper sales during Chinese New Year. And luxury retailers at home and in countries like South Korea count this among their make-or-break seasons.
8. And this year's animal sign?

Move aside monkey, it's the year of the rooster.
The Reference Shelf
— With assistance by Dong Lyu
Before it's here, it's on the Bloomberg Terminal.
LEARN MORE