U.K. Lawmakers Mull Steps to Halt Hard Brexit, Observer Reports
By
MPs say May has no mandate for extreme Brexit options

Plan comes days before Supreme Court ruling on Brexit trigger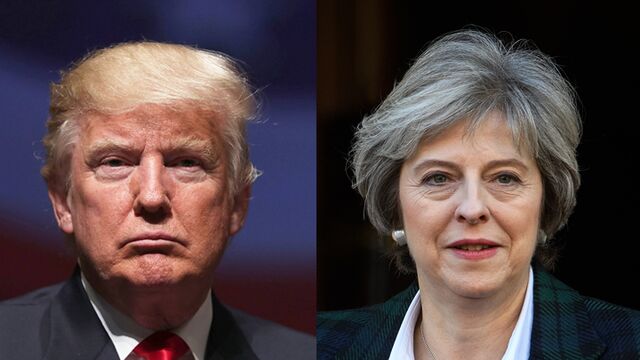 A cross-party group of U.K. parliament members is seeking to stop Prime Minister Theresa May from carrying out a so-called hard Brexit on fears businesses will end up paying high tariffs on goods sold in the European Union, the Observer reported, without citing anyone.
Lawmakers from the Labour, Liberal Democrats and Green parties, and even some in May's own party, are in talks ahead of a Supreme Court verdict on Tuesday on whether parliament needs to vote to trigger Brexit, the newspaper said. If the court rules a vote is required, the MPs will seek legislation to block May's proposed strategy for Brexit, the newspaper said.
May announced on Jan. 17 for the first time that her government will make a clean break from the EU and leave the EU's single market, paving the way for the U.K. to eventually strike new trade accords with the continent and other countries. Her opponents argue such a step will put at risk the economic benefits the U.K. has reaped as a member of the trading bloc. In 2015, the EU accounted for about half the U.K.'s trade in goods and services.
In a separate action, 43 members of the opposition Labour Party have written to May to protest her plan to leave the single market and her willingness to adopt World Trade Organization tariffs in the absence of new accords. The WTO's "devastating" tariffs would be 10 percent on cars, 12 percent on clothing and 40 percent on lamb, according to the letter cited by the Observer.
The lawmakers say while May has a mandate to negotiate an exit from the EU, she doesn't have the power to take actions that they say will hurt business, cost jobs and lead to higher prices.
While few of the MPs would vote against triggering Article 50 of the Lisbon Treaty, the formal legal notification that Britain is leaving the EU, they are determined to build safeguards into the bill to prevent it causing serious economic damage and the loss of employment rights, the newspaper added.