Trump Mocks Protesters Before Affirming Right to Demonstrate
By , , and
President comments on Saturday's massive women's marches

'Why didn't these people vote?' Trump asks of protesters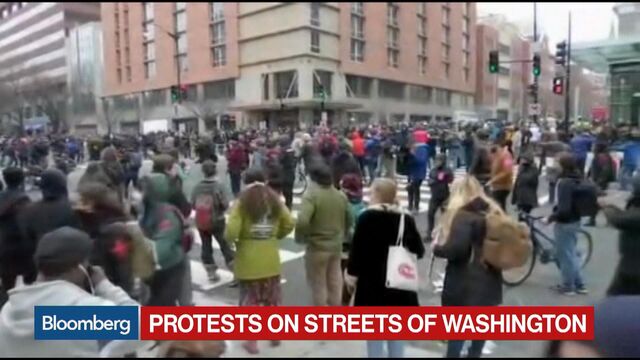 President Donald Trump mocked protesters who gathered for large demonstrations across the U.S. and the world on Saturday to signal discontent with his leadership, but later offered a more conciliatory tone, saying he recognized such marches as a "hallmark of our democracy."
"Watched protests yesterday but was under impression that we just had an election! Why didn't these people vote? Celebs hurt cause badly," Trump said early Sunday in a Twitter post. It was his administration's first direct response to the Women's March on Washington and related events.

Less than two hours later, Trump tweeted, "Peaceful protests are a hallmark of our democracy. Even if I don't always agree, I recognize the rights of people to express their views." Trump's posts came from his @realDonaldTrump account, where he has 21 million followers, not the official @POTUS handle.
Photos: The Women's March in Pictures, From Washington to Antarctica
Hundreds of thousands of people gathered in Washington on Saturday and at coordinated protests against Trump's presidency in New York, Chicago, Boston and other U.S. cities and towns, as well as in Paris, Berlin, Ottawa and other international locations. The crowds choked subway trains in Washington, where the transit authority reported more than 1 million riders, eclipsing that of the inauguration.
Instead of the red "Make America Great Again" regalia popular at the inauguration, many marchers wore pink knitted caps with pointed corners, dubbed "pussyhats," as a symbol of defiance to the new president. Speakers including the musician Madonna denounced Trump.
Madonna Criticized
"The revolution starts here," she told the crowd as thousands of marchers began heading toward the White House. "The fight for the right to be free, to be who we are, to be equal. Let's march together through this darkness."
However, Madonna also drew criticism from Trump supporters for musing that she had thought about "blowing up the White House."
Other celebrities appeared, including singer Alicia Keys and activist/filmmaker Michael Moore. Actress Ashley Judd recited an anti-Trump poem written by a young woman from Tennessee.
Senior Trump adviser Kellyanne Conway said it was possible the president would engage more directly with the organizers of the demonstrations "but none of them has reached out to us" so far.
'Constructive Conversation'
"Folks who are actually open to constructive conversation and solutions, of course we're open to that," Conway told Bloomberg News on Sunday. "He said from the beginning he'd be the president of all Americans."
Trump's press secretary, Sean Spicer, issued an angry statement from the podium of the White House briefing room Saturday afternoon in which he lambasted the press for its reporting on the size of Trump's inauguration crowd and insisted that audiences for the inauguration and the women's march couldn't be compared.
White House chief of staff Reince Priebus also criticized the media in an appearance on "Fox News Sunday." "There's a conspiracy by the media to delegitimize this president. And we are not going to sit around and let it happen."
— With assistance by Anna Edgerton
Before it's here, it's on the Bloomberg Terminal.
LEARN MORE