Schumer Proposes Bill Limiting Trump on Easing Russian Sanctions
By
The senator says he has bipartisan support for the legislation

Bill would require congressional vote for lifting sanctions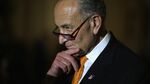 Democrats have bipartisan support for proposed legislation to limit President Donald Trump's ability to reduce sanctions on Russia, said Senate minority leader Chuck Schumer.
The bill would require that any changes to sanctions against the country be put to a vote in Congress, restricting the president's ability to act unilaterally. In a statement on Sunday, Schumer said the bill is similar to legislation introduced by Republicans in 2015 to limit the president's ability to ease sanctions against Iran. That bill passed easily with bipartisan support.
Democrats have used Russia's more assertive role in foreign affairs to appeal to hawkish Republicans. Some lawmakers say they worry that Trump, who has spoken favorably of Russian President Vladimir Putin, will roll back sanctions former President Barack Obama placed on Russian individuals and intelligence agencies this month in retaliation for leaking hacked e-mails from the Democratic party during the campaign.
"We repeal sanctions, it tells Russia, go ahead and interfere in our elections and do bad things," Schumer said on ABC News' "This Week with George Stephanopoulos." "That would be terrible."
In an interview with two European newspapers earlier this month, Trump floated the idea of lifting sanctions imposed by the U.S. to punish the Kremlin for its annexation of Crimea in 2014 and military support for the Syrian government, as part of a nuclear weapons reduction deal.
Senator Ben Cardin of Maryland, a co-sponsor of the bill, said he's worked with colleagues across the aisle to "fashion a series of additional steps the president can take," to increase penalties on Russia for aggression against the U.S. and other countries.
Schumer said the bill will be introduced this week and already has the support of Republican senators John McCain and Lindsey Graham.
Before it's here, it's on the Bloomberg Terminal.
LEARN MORE