Trump's Focus on First Days in Office Remains His TV Ratings
By and
'Wow,' tweets president, after 31 million watch inauguration

Trails Obama's 2009 total; Fox News tops broadcast, cable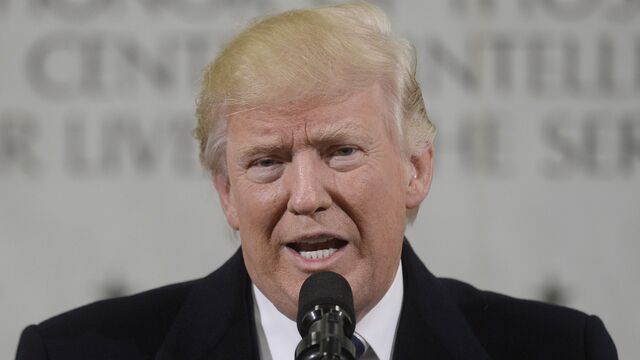 While his days on "The Celebrity Apprentice" are behind him, President Donald Trump is still paying close attention to his television ratings.
"Wow, television ratings just out: 31 million people watched the Inauguration, 11 million more than the very good ratings from 4 years ago," the former reality-television star posted to Twitter on Sunday morning, referring to the second time Barack Obama took the oath of office upon his re-election.
The nearly 31 million people that watched President Donald Trump's inauguration did top the total that watched the 2013 event. But it fell short of the audience that tuned in for Obama's first inauguration eight years ago, according to Nielsen. It also trailed Ronald Reagan's record audience.

The tweet is a continuation of Trump's promotion of his own popularity that he was known for on the campaign trail, when he was sure to note crowd size at his rallies and speeches. The president's press secretary, Sean Spicer, used his first appearance in the White House briefing room Saturday to scold news organizations, accusing them of false reporting about the size of the crowd at the inauguration.
Without providing specific numbers, Spicer said it "was the largest audience to ever witness an inauguration, period, both in person and around the world."
Fox News topped all broadcast and cable networks with 8.4 million viewers for its coverage from 10 a.m. to 6 p.m. It's a sign that a Trump presidency may bode well for the channel, which is owned by Rupert Murdoch's 21st Century Fox Inc. CNN averaged 2.5 million viewers, and MSNBC had 1.35 million viewers during the same eight-hour period.
NBC was the second-most-watched channel and topped all the broadcast networks, averaging 5.8 million viewers. ABC had 4.9 million viewers and CBS had 4.6 million.
Obama's first inauguration in 2009 drew a national audience of 37.8 million, the second-largest since 1969, according to Nielsen data going back to Richard Nixon's first swearing-in. Reagan's first inauguration in 1981 holds the audience record at 41.8 million viewers.
— With assistance by Nicole Piper, and Christopher Palmeri
Before it's here, it's on the Bloomberg Terminal.
LEARN MORE